Plants and Flowers that Attract and Feed Butterflies
Butterfly Garden Plants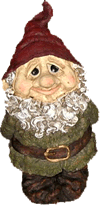 Butterflies don't need anything fancy or expensive. Just a large, open, sun-filled area, some nectar flowers for adult Butterflies, some food sources for caterpillars, shelter from extreme weather, a shallow butterfly 'pool', and a few good sunning rocks.
One note for dedicated gardenners who may be appalled at the idea of actually inviting caterpillars in for lunch...
Very few butterfly species ever cause harm to your garden plants!
Search The Garden Helper: