How to Grow and Care for Butterfly Weed Plants
Asclepias tuberosa









Butterfly Weed plants are drought resistant, perennial wildflowers that are native to much of North America.
The flat clusters of fragrant orange flowers form on top of 2'-3' stems in July and August.
The slender leaves are 2"-3" long and fuzzy.
Butterfly Weed plants are hardy in USDA zones 3-9
Growing Requirements for Butterfly Weed Plants

Butterfly Weed grows best in full sun, but will tolerate light shade.
They should be grown in sandy, well draining soil.
Butterfly Weed plants have a long tap root and resent transplanting, so choose your location carefully.


Growing Butterfly Weed from Seed

Asclepias tuberosa is easily grown from seed that can be sown in the garden in spring or any time up to two months before the first frost.
Seeds can be sown indoors at any time.
Germination takes 3-4 weeks at 70° F.
Plant in full sun, 8-12 inches apart.
Butterfly Weed
Asclepias tuberosa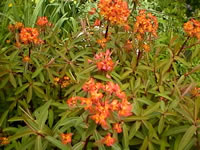 Search The Garden Helper: