Flowering Vines and other Vining Plants to Grow in your Garden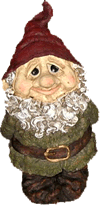 There are literally hundreds of different plants that are classified as 'vining plants'. This diverse group includes annuals and perennials; climbers, crawlers and creepers; evergreen and deciduous plants...
Vines can be used as ground covers; to climb over and disguise unsightly objects in the garden; to enhance fences, arbors and trellises; or as a screen to block the view of obnoxious neighbors...
Most flowering vines need full sun to thrive but there are a few of them that will tolerate partial shade. In deep shade you may have to settle for a non flowering vine such as one of the many types of Ivy (Hedera).
The best reason of all for growing vines is, however, simply to enjoy their beauty!
Planting and Training Vines
If you plan on growing your vining plant on a trellis or an arbor, it is important to put this support structure in place before planting, to avoid damaging the roots and stem of your vine. Set your plant in about 6-12 in. away from the support to allow enough growing room for developing stems.
The vines should be tied loosley to the support using strong, stretchy materials that won't cut into growing branches. (Strips of old nylon hosiery work very well for this.) Loop each tie into a figure 8, with the crossed portion between the stem and the support to keep stems from rubbing or being choked.
Search The Garden Helper: