Gardening, Flowers and House Plant Care
Spring is finally here!
There are 15 days and 8 hours left until Summer! What should you be doing in your garden right now? Check our June gardening guide here.
Summer Gardening
With summer finally here, hopefully we can sit back for a moment and enjoy the fruits of our labors in the garden.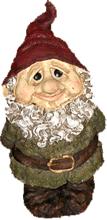 With Spring just around the corner, it is time to get serious and get the garden ready!
There are still other on-going tasks to perform in the garden, but your primary concern right now is to assure an ample supply of water for all your plants. Most flowers and shrubs need about an inch of water each week to perform well, and especially newly planted seedlings will perish if their roots are allowed to dry out.
Bugs and Slugs in the Garden
In some areas, warm winter weather could produce an exceptionally good crop of mosquitoes in many gardens. Aside from the usual precaution of eliminating sources of standing water or using chemical methods, there are many types of garden plants that repel mosquitoes.
Here in the Pacific Northwet, the worst garden pests right now are the slugs and snails...
and they are busily propagating themselves! A single lawn prawn can successfully remove an entire row of seedlings from your garden in hours. He can turn a perfect plant into swiss cheese over night and return to the safety of his hideaway, leaving you to wonder what the heck happened...
Here is more information than you ever wanted to know about dealing with the slugs and snails that are eating your garden.
Annuals, Perennials and Bulbs in the Garden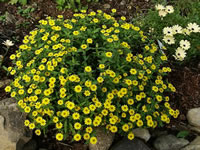 Has your spring been somewhat less than a sunny, gardener's delight? Haven't had enough time to get the garden looking quite right yet? 'Color Spots' may be your quickest and easiest way of catching up with the neighbors.
Color Spots are easy care, blooming size annuals that the nurseries have grown in 4" pots. They have taken care of the feeding, pinching and early care for you. The result is a nicely branched plant, blooming and ready to set in the garden. You will be able to see what your flower will look like before you even pick it out, and have have some early summer colors before the sun sets. Prepare the soil, water the new plants before you remove them from the pot; plant the color spots at the recommended spacing on the label; water them again.
The Result: I N S T A N T C O L O R !
---
Gardening for Beginners
If you are a new or less experienced gardener who wants to start a new garden for the first time, I suggest that you begin here...
Search The Garden Helper: