How to Grow and Care for Sea Holly Plants
Eryngium bourgatii








Sea Holly,Eryngium bourgatii is a uniquely ornamental
perennial plant which is among the favorites of many species of butterfly.
The prickly foliage of this plant is variegated green and white.
The silvery blue, thistle like flowers form along a two foot spike.
Growing Requirements for Sea Holly Plants
Sea Holly is hardy in USDA zones 4-8.
Preferably, Sea Holly plants should be grown in full sun and in light, well draining soil.
Sea Holly does not like to be disturbed so choose a spot where it will not need transplanting.
The plant produces a long tap root which makes transplanting or division difficult, but also serves to make it a very drought tolerant plant.
If it becomes absolutely necessary to move your Sea Holly, it should be dug in the fall after the foliage has decayed down to ground level.


Propagating Sea Holly Plants

Propagation is best accomplished by seeds sown in the garden where they are to grow, planted a foot apart in the Fall. Germination is slow.
New plants can also be started with root cuttings taken in early Spring and planted two inches deep in light soil.
Sea Holly
Eryngium bourgatii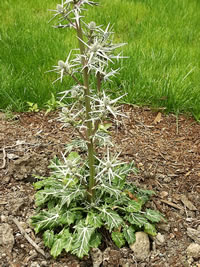 Search The Garden Helper: