How to grow and care for Coral Bells plants
Heuchera sanguinea













Coral Bells are compact growing, 18" mounding, evergreen plants that offer a growing variety of outstanding foliage colors in shades of purple, rose, lime green, gold as well as many striking variegations.
Heucheras attract Butterflies and Hummingbirds, and are Deer resistant plants.
They are excellent plants for border plantings, rock gardens or growing in containers.
There are 55 species of Heuchera that are native to North America, as well as dozens of hybrids that have been developed in the past 20 years.
The ½", bell-shaped flowers are borne on tall wire-like stalks in May and June.


Planting and Growing Coral Bells Plants

The majority of Heuchera plants are hardy in USDA zones 6-9.
Coral Bells should be grown where they will receive full sun to partial shade. They require partial shade in warmer climates.
Plant them 9-15" apart in rich, moist soil that has excellent drainage. Heuchera prefer a neutral to slightly acid soil pH, between 6.0 and 7.0.
Keep them well watered their first year. After that, Coral Bells are fairly drought tolerant.
Feed every few weeks during the growing season, with a balanced, all-purpose liquid fertilizer.
Remove spent blooms and dead foliage promptly.
In cold areas, Heuchera plants may heave out of the soil during the winter.
Mulching will help prevent the freezing and thawing that pushes the plants up.
Propagating Coral Bells Plants

Divide Heuchera plants every 3-4 years, to keep them from dying out in the center. Division is the only successful method of propagating hybrid Heucheras that will remain true to the parent.

When starting seeds directly in the garden, sow them directly on the surface of the soil in late fall or early spring.
Do not cover the seeds. They need light to germinate!

Sow seeds indoors 8-10 weeks before the last killing frost in your area.
Do not cover the seeds. They need light to germinate!
Maintain a temperature in the growing medium of 55°.
Seeds take between 10-15 days to germinate.
Transplant outdoors after all danger of frost has passed.
Coral Bells
Heuchera sanguinea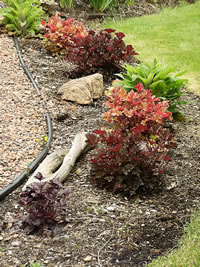 Search The Garden Helper: