How to Grow and Care for Marguerite Daisy plants
Marguerite Daisies are easy to grow, tender perennials that are usually grown as annual plants. Argyranthemum is a mound forming plant that will grow from one to three feet tall and wide, depending on the cultivar.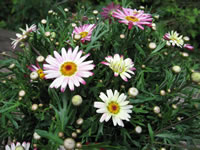 Argyranthemum frutescens
These are great plants for growing in containers and for cut flowers. Marguerites produce masses of fragrant, 1-2", Chrysanthemum-like flowers from mid spring until mid fall that attract many types of butterflies.
Planting and Growing Marguerite Daisies
Most Marguerites are only hardy in USDA Zones 8-11, however, new hybrids are being developed that are hardy in zones 7-11. These shallow rooted plants should be planted 12"-15" apart in light, well draining soil. Marguerite Daisies require full sun except in hotter climates, where they may need some protection where night time temperatures are extreme.
Feed monthly with a balanced all purpose, liquid fertilizer.
Pinch the tips regularly until the flower buds appear in late spring to encourage a compact growing habit. Marguerites can be cut back at any time during the growing season to promote new growth and fresh blooms.
Propagating Marguerite Daisy Plants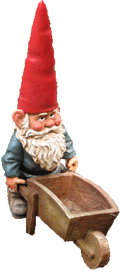 Marguerite Daisies can be propagated with 2"-4" softwood cuttings of non-flowering shoots, taken in mid-spring or late summer.
Young plants can be overwintered in a cool greenhouse or coldframe with a minimum temperature of 41°.
Divide Marguerite plants in spring, discarding any "woody" parts.
Argyranthemum seeds can be sown directly into the garden in the spring or early to mid summer.
Sow seeds indoors 6-8 weeks before they are to be planted in the garden.
Maintain a soil temperature of 70° F. for germination in 8-14 days.
Search The Garden Helper: