Plants and Flowers that Attract Hummingbirds to Your Garden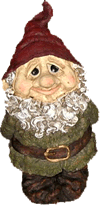 Attracting Hummingbirds
Hummingbirds are attracted to flower colors and nectar, not fragrance.
Some cultivated hybrids of wildflowers produce less nectar than their wild counterparts, but they still make excellent additions to your hummingbird garden.
Hummingbird Feeders
The best color for your feeder is bright red to attract the birds from a distance. Never fill your feeders with anything but sugar-water mix of 1 part sugar to 4 parts water.
Do not use food coloring of any kind!
Never, ever, ever use honey (Honey can develop a fungus which can be fatal to hummingbirds)
Always keep your feeders clean and filled!
Go to the Hummingbird page for more helpful information on creating a Hummingbird Garden
Plants and Flowers that Attract Hummingbirds
Search The Garden Helper: