How to Grow and Care for Butterfly Lily Plants
Hedychium coronarium








The Butterfly Lily is a striking, tender perennial which grows to a height of 2-4 feet tall.
The fragrant white or pink flowers which appear atop tall (5-8 feet) green stalks
in the Summer and Fall resemble butterflies.
The beautiful dark green foliage makes a great background plant for your landscape.
It is a great addition to any Butterfly Garden

Growing Requirements for Butterfly Lilies

Unfortunately, the Butterfly Lily is only hardy in USDA zones 9-11, so it is only suited for growing in warmer climates like those found in southern Florida, California, and other tropical-like areas.
A light frost or freeze will cause the plant to die back to the ground, but it will quickly recover as the temperatures rise in the Spring.
Butterfly Lilies prefer light to partial shade.
They should be grown in moist, well draining, fertile soil.
Feed your Butterfly Lily monthly during the growing season with a good all purpose, balanced fertilizer


Propagating Butterfly Lily Plants

Butterfly Lilies can be grown from seed which must be harvested when ripe and sown while fresh.
Soak the seeds in very warm water for two hours to soften the coat then sow them 1/2 inch deep in moist compost, maintaining a temperature within the medium of 68° and 78° F.
Germination takes two to six weeks.
The Butterfly Lily is also easy to propagate by division or by root cuttings. (Dig up and cut the thick roots into 8" pieces and replant.)
Butterfly Lily
Hedychium coronarium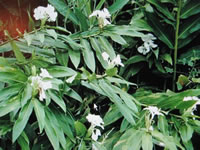 Search The Garden Helper: