How to Grow and Care for Red Flowering Currant Plants
Ribes sanguineum











Flowering Currants are one of the first flowers of Spring and always alert me to the fact that
the hummingbirds have arrived, and it's time to get the feeders out.
The Red Flowering Currant is a wildflower that is native to most of the west coast of the United States and Canada.
This 6-10 foot tall deciduous shrub is hardy in USDA Planting Zones 5-10
In early spring it produces pendulous clusters of red or pink flowers that attract and feed hummingbirds, bees and butterflies.
The small bluish-black berries are edible, but they taste terrible.
However, they are eaten by a wide variety of wild birds.

Growing Requirements of Flowering Currants

Flowering Currants can be grown in full sun, but they prefer partial shade.
They should be planted in moist, rich, slightly acidic soil
with a pH somewhere between 5.5-6.5.

To ensure the fullest flower and fruit production, Flowering Currants should be planted in groups or in close proximity to other Currant plants.

Propagating Flowering Currants

Ribes sanguineum plants can be grown from seed that should be sown directly into the garden or coldframe in the fall. If you are collecting seeds from your Flowering Currant, be sure to clean the pulp from the seeds thoroughly before storing them. Flowering Currants can also be propagated from cuttings struck in early summer.
Another method of propagation is by tip or ground layering.
This is done by pinning the tip of a branch to the ground where it will root.
Once rooted you can sever the new start from the parent plant,
and transplant it elsewhere.
Red Flowering Currant
Ribes sanguineum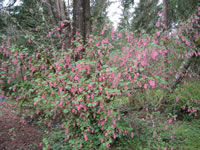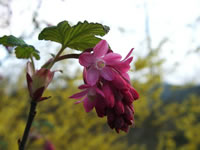 Search The Garden Helper: