Flowering Trees and Shrubs to Grow in your Garden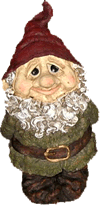 Trees and shrubs are the backbone of your landscape.
They are used as screens, backgrounds and accents. Trees are used for shade and for fruit. Flowering shrubs provide long lasting, beautiful blooms which brighten even the gloomiest of days.
Because the cultural needs, size, and structure can vary so greatly, even within different varieties of the same species of trees and shrubbery, I recommend visiting a local botanical garden or arboretum before deciding on your choices. Even a leisurely stroll through your own neighborhood will provide you with a great deal of insight into what you like, and what grows well in your area. Trees and shrubs live and grow for many years, so the effort it takes to make an informed choice is well worth the time that it takes.
(Besides, it's a great way to spend the day!)
Search The Garden Helper: