How to Grow and Care for Purple Coneflower Plants
Echinacea purpurea









Purple Coneflowers produce large, fragrant pink flowers beginning in April and May.
The three to five foot flower stalks make them an excellent background planting
for your landscape, or in a butterfly garden.
Coneflowers are excellent for cut flowers, lasting a week or longer.


Growing Requirements for Purple Cornflower Plants

Coneflowers are hardy in USDA zones 3-9
Echinacea plants grow best when planted in full sun in any moist, well-drained garden soil, but will tolerate partial shade.
Purple Coneflowers are drought tolerant and wind resistant plants once they are established.
Plant Echinacea 18-24" apart in the garden.


Cutting the flowers will promote an extended blooming season.


Propagating Purple Coneflower Plants

Coneflower seeds can be sown in the garden during late spring and summer months, up until two months before the first frost.
Seeds that are started indoors in early spring and kept at 65°-75° F.
will germinate in 15 to 20 days and may bloom the first year.
Propagation can also be accomplished by dividing Echinacea clumps in spring or fall.
or by root cuttings taken in the fall.
Purple Coneflower
Echinacea purpurea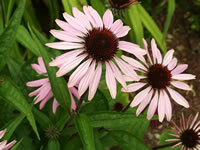 Search The Garden Helper: