Adding Water Features to Your Garden
There is nothing more relaxing than taking a break from gardening and settling down beside a gently splashing waterfall.
Waterfalls, Fountains and Ponds
However, it is not as soothing to think about the expense and back breaking labor it may take to install a full blown pond into your landscape. Also, the maintenance is not enjoyable to some people.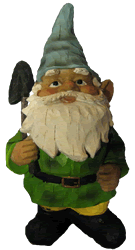 There is an alternative! Water features do not have to be massive to have the same effects. If you have an interesting urn or basin, you have got what it takes to create your own low maintenance, inexpensive garden pool.
A Container for Your Water Feature
Be creative when selecting a container. Dont limit yourself to what you have already seen. Anything that is or can be waterproofed can work. Whiskey barrels, troughs, bird baths, lotus bowls, basins, wooden boxes... almost anything goes!
When choosing a container, keep in mind what you want to put in it.
The easiest way is to choose one that is already waterproof. Plastic, ceramic, or concrete containers without drainage holes are ideal. They require little or no alteration to get started. Keep in mind, though, that if you live in an area where water freezes solid in the winter, concrete may crack. Even wood boxes will work when lined with a EPDM liner. These liners are fish-safe and are available at home centers and aquatic gardening shops. You can also find a brush-on sealant made specifically for aquatic gardening.
Plants for your Water Garden
Research the plants you like and be sure your container is deep enough to house them. Plants like Water Lilies need at least 5 inches of water above the top of their pot, while floating plants like Water Hyacinths and Water Lettuces can be grown in a salad bowl!
Do you want fish in your Water Feature? If so then your container needs to be large enough to house a small pump and filter set-up in order to keep your fish at optimum health.
Filters and Pumps
Filters and pumps are only absolutely necessary when you have fish, but a small pump with a bubbler or fountain will not only make you garden more aesthetically pleasing, it will also keep it healthier by oxygenating the water. Before shopping for a pump, determine how many gallons of water you have and how fast you want to move it through your fountain, if applicable. Pumps, fountains and filters can be purchased at home centers, garden shops, and some pet stores.
Once you install your pumps, filter and fountain, you are almost finished! After filling with water, let the garden sit for about two weeks to allow the chlorine and chemicals to dissipate. You can hurry this process along by adding a dechlorinator. Then you can add your plants. Choosing a variety of plants will make your feature more interesting. Look for different heights, colors, and textures.
Adding Fish to your Water Feature
You can also add your fish at this point. Smaller goldfish, like shibunkins, comets or fantails do well in containers as long as they have adequate oxygen, water quality and shade so that they do not overheat. All that is left to do now is to find a comfortable seat and place it nearby so that the next time you are exhausted from weeding you can plop down and relax while you enjoy the soothing sounds and beauty of your new Water Feature.
Water Features in the Gardens of Cedar Hill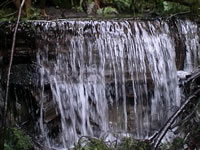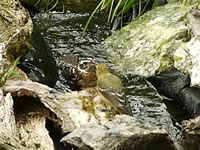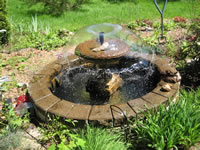 Search The Garden Helper: