How to Grow and Care for Sedum 'Autumn Joy'
Sedum telephium









Connie wrote and asked:
"I have about 10 Autumn Joy Sedum plants in my garden.
One by one they have dropped stems and turned yellow.
Are they dead and do they need to be replaced? How soon should I replace them? "
Growing Requirements for an Autumn Joy Sedum

Sedum Autumn Joy is a low maintenance, clump forming, succulent perennial plant with waxy, grey green foliage.
Four inch clusters of tiny, star shaped flowers appear from mid summer until mid autumn
Sedum Autumn Joy is hardy in USDA zones 4-10.
In cool zones (4-6), Autumn Joy should be grown in full sun.
In hot regions, plant your Autumn Joy Sedum where it will be in partial shade during the heat of the day.
Sedum Autumn Joy plants are easily grown from seed
Over-watered Sedums

Since I live in Washington, the 'EverWet State', the first thing I would suspect to be the cause of your plant loss would be overwatering.
Sedum telephium 'Autumn Joy', being a sun loving succulent, stores an abundant supply of water to get itself through a drought.
Make certain that your Sedum plants have excellent soil drainage, if not, they will drown, plain and simple.
My suggestion would be to lift the root ball on a couple of them and look for anything obvious, i.e. rot.
If you dont see anything, and the plants haven't been over watered, cut them back to the ground, and see what the spring brings forth.
If you decide to replace your Sedum Autumn Joy plants, the best time to plant Sedums is in the spring, after all danger of frost has passed.
Sedum Autumn Joy
Sedum telephium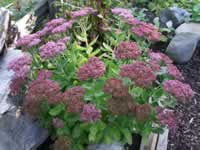 Search The Garden Helper: