How to Grow and Care for Beach Daisy Plants
Asteriscus maritimus









Beach Daisies, or Gold Coin Plants as they are sometimes known,
are low growing evergreen plants that grow 1 ft. tall with a 3-4 ft. spread.
They have leathery, slightly fuzzy, silvery green foliage, and for 6-8 months of the year
will cover themselves with 1"-1½", bright yellow Daisy flowers.
Beach Daisies are very durable, deer resistant plants that grow well
near the seaside or under extremely dry conditions.
They are excellent plants for growing in containers or hanging baskets,
as a ground cover, border plant, or in your rock gardens.

Growing requirements for Beach Daisy Plants

Beach Daisies are hardy in USDA zones 9-11, elsewhere they are grown as annual plants
They should only be grown where they will full sun for most of the day,
Except in area with extremely hot summers, provide them with afternoon shade.
Plant Beach Daisies 2-4 feet apart in light, sandy, well draining soil. Keep the soil moist during the first growing season.
Once established, Asteriscus are very drought tolerant plants. They may go dormant in the late summer dry season if they haven't received supplemental watering, but will perk back up with the fall rains.

Feed once in the spring just as new growth begins, using an balanced, all purpose fertilizer following the directions on the label.
Deadhead spent flowers regularly to prolong blooming.

How to Propagate or Grow Beach Daisies from Seed

Beach Daisy plants can be easily propagated with softwood cuttings
taken at any time of the year.

Layering is another way of propagating Beach Daisies. Pin the tip of one of the woody branches to the ground, and wait for it to root.

Sow African Daisy seeds directly into the garden in the spring, after all danger of frost has passed.
Beach Daisy
Asteriscus maritimus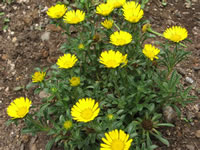 Search The Garden Helper: