Average Date of Last Killing Frost
Most planting and seed sowing instructions are based on the average last frost date, which is defined as "the last day in the spring that you might have a killing frost".
When making your plant selections, it is wise to consult more experienced gardening friends and neighbors for advice regarding possible local micro-climates or unusual conditions. Their knowledge can be invaluable.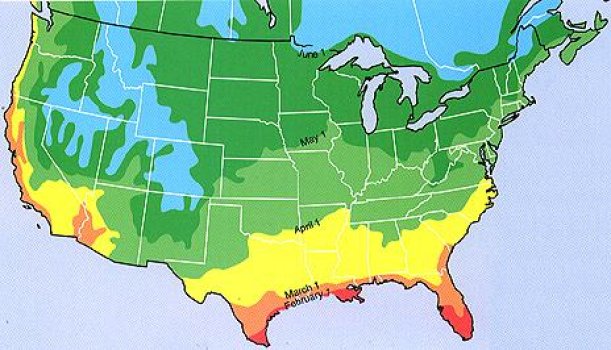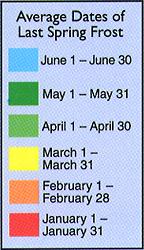 Temperature Conversion Table

Temperature ranges of Plant Hardiness and Gardening Zones
| Zone | Fahrenheit | Celsius | Example Cities |
| --- | --- | --- | --- |
| 1 | Below -50 F | Below -45.6C | Fairbanks, Alaska; Resolute, Northwest Territories (Canada) |
| 2a | -50 to -45 F | -42.8 to -45.5 C | Prudhoe Bay, Alaska; Flin Flon, Manitoba (Canada) |
| 2b | -45 to -40 F | -40.0 to -42.7 C | Unalakleet, Alaska; Pinecreek, Minnesota |
| 3a | -40 to -35 F | -37.3 to -39.9 C | International Falls, Minnesota; St. Michael, Alaska |
| 3b | -35 to -30 F | -34.5 to -37.2 C | Tomahawk, Wisconsin; Sidney, Montana |
| 4a | -30 to -25 F | -31.7 to -34.4 C | Minneapolis/St.Paul, Minnesota; Lewistown, Montana |
| 4b | -25 to -20 F | -28.9 to -31.6 C | Northwood, Iowa; Nebraska |
| 5a | -20 to -15 F | -26.2 to -28.8 C | Des Moines, Iowa; Illinois |
| 5b | -15 to -10 F | -23.4 to -26.1 C | Columbia, Missouri; Mansfield, Pennsylvania |
| 6a | -10 to -5 F | -20.6 to -23.3 C | St. Louis, Missouri; Lebanon, Pennsylvania |
| 6b | -5 to 0 F | -17.8 to -20.5 C | McMinnville, Tennessee; Branson, Missouri |
| 7a | 0 to 5 F | -15.0 to -17.7 C | Oklahoma City, Oklahoma; South Boston, Virginia |
| 7b | 5 to 10 F | -12.3 to -14.9 C | Little Rock, Arkansas; Griffin, Georgia |
| 8a | 10 to 15 F | -9.5 to -12.2 C | Tifton, Georgia; Dallas, Texas |
| 8b | 15 to 20 F | -6.7 to -9.4 C | Austin, Texas; Gainesville, Florida |
| 9a | 20 to 25 F | -3.9 to -6.6 C | Houston, Texas; St. Augustine, Florida |
| 9b | 25 to 30 F | -1.2 to -3.8 C | Brownsville, Texas; Fort Pierce, Florida |
| 10a | 30 to 35 F | 1.6 to -1.1 C | Naples, Florida; Victorville, California |
| 10b | 35 to 40 F | 4.4 to 1.7 C | Miami, Florida; Coral Gables, Florida |
| 11 | above 40 F | above 4.5 C | Honolulu, Hawaii; Mazatlan, Mexico |
Search The Garden Helper: