How to Grow and Care for Snapdragon Plants
Antirrhinum majas














The fragrant flowers of the Snapdragon make great fresh flower bouquets and they make nice dried flowers as well. Snapdragons are a favorite flower of both Butterflies and Hummingbirds and they are Deer resistant!

Growing Requirements for Snapdragon Plants

Snapdragons are sun loving, tender perennials that are native to the Mediterranean region.
They are usually grown as cool season annuals in most areas, but in USDA zones 8-10 they can be planted in the fall for a show of winter color.
Snapdragons cultivars range in height from 9" to 4 ft. tall. They should be planted 6-8 inches apart in any average soil as long as it is well draining. Pinch back new growth on young plants to encourage them to branch out and produce more flowers.
Snapdragon plants resent drought conditions so keep them moderately watered.
Once established, feed monthly with a balanced 10-10-10 fertilizer
Be sure to remove spent blooms regularly to induce continued flowers.


Growing Snapdragons from Seed

Snapdragon seeds can be sown directly into the garden after the soil warms,
but for the best results they should be started indoors 6-8 weeks before planting them outdoors.
Snapdragon seeds require light for germination so DO NOT COVER THEM!
Keep the temperature within the growing medium at 70°-75°
Germination will take place within 10-14 days.
Snapdragons
Antirrhinum majas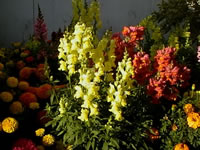 Search The Garden Helper: