How to Grow and Care for Bellflower Plants
Campanula species
There are about three hundred different species of Campanula.
The family contains annuals, biennials and perennials, most of which produce bell shaped flowers in shades of blue, purple, pink or white.
The plants themselves range in size from low growing miniatures and creepers to six foot upright plants.

Growing Requirements for Bellflower Plants

Campanulas should be grown in full sun and planted in rich, well drained soil.
They should be kept well watered, especially when in bloom.
Once established and actively growing, Bellflowers should be fed every two weeks with a good all-purpose fertilizer.
Remove the spent flowers promptly to promote new growth.

Propagating Bellflower Plants

Sow seeds of the annual Campanulas indoors,
about 8 weeks before the last frost date.
Campanula seed require light for germination so do not cover them.
If the seed flat is kept at about 75°, the seeds will germinate in 10-14 days.
Keep the seedlings in bright light until it is time to transplant into the garden.

Perennial forms of Bellflowers can be propagated by seeds or cuttings.
Established Campanula plants should be divided every two to three years.
Species of Campanula

Bluebells of Scotland, Campanula rotundifolia is a clump forming perennial that is hardy to USDA zones 3-9. From June through September, produces multiple stems, each with a single nodding bell shaped flower.

Carpet Campanula, Campanula carpatica is a low growing perennial plant,hardy in zones 5-9. It produces blue or white bell shaped flowers throughout early Summer.


Cup and Saucer Bellflower, Campanula calacanthema is an annual variety of Bellflower that prefers full sun and rich, well drained soil and should be kept well watered, especially when in bloom.
no pix

Milky Bellflowers, Campanula lactiflora are large clumping plants with tall spikes of bell shaped purple/blue flowers in Summer. hardy in zones 5-9


Clustered Bellflowers, Campanula glomerata are upright growing perennials, hardy in zones 3-8, with light green, fuzzy lance shaped foliage. They produce a cluster of one inch, vase shaped flowers atop 2 ft. stems all summer if the spent blossoms are removed promptly.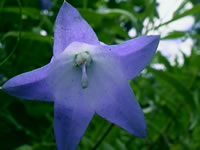 Bluebells of Scotland
Campanula rotundifolia
A Forum discussion about Bellflowers
Search The Garden Helper: