spider plants
Gardening Reference » Gardening in 2006
by Kara on May 08, 2006 08:15 AM
I just got a beautiful spider plant but its quite root bound( roots growing out of the pot). I know spider plants like to be semi-root bound, but this seems a little extreme! Its currently doing fine and giving all kinds of babies, but should I repot? Or should I wait a little bit for it to get adjusted to the new environment and then repot? Or just leave it alone? Thanks a bunch!
by SpringFever on May 08, 2006 10:09 AM
Hello welcome to the forum Kara ..
You should let it adjust to the area for sure ... at least for a month or so then repot it into a little bigger not much pot and you should be fine ..
* * * *


Tonight I am having friends for dinner... Hanibal Lector
My Album
by guero75 on May 09, 2006 04:40 PM
Just leave it alone. It will do just fine potbound if you make sure to keep it watered well.
by snapdragon on May 11, 2006 09:00 AM
I'd let it adjust first, then repot in a pot about a 1/2 size bigger. It wouldn't hurt to clip some of those babies either to encourage more growth from the mother plant.

* * * *
Snapdragon
by Tonya on May 12, 2006 04:26 AM
My spider plant is also having babies... and I was wondering how long I should wait to cut the babies? They are currently about 1 1/2 inches long. I do have another pot with babies from last time in and would like to put these in it as well as it is a big pot. This is one of my babies-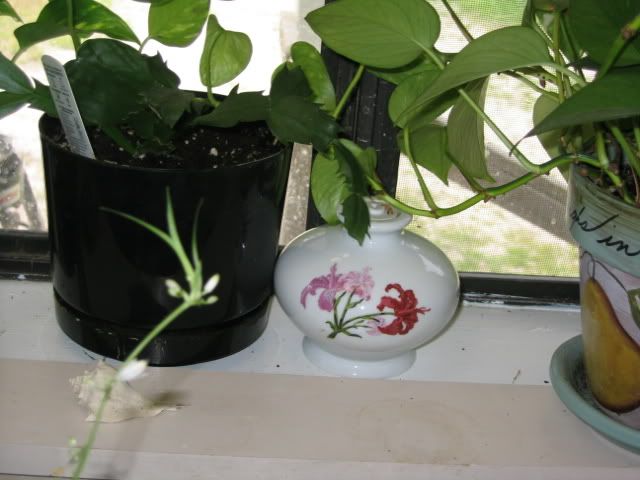 * * * *


Bote and Babe's World
by Maine-ly Bees on May 12, 2006 04:35 AM
Hey Tonya, just curious, how does your holiday cactus do in the plastic pot? I have all mine in terra cotta but it detracts from the look of the plant itself. I thought about replanting in plastic but I wasn't sure about them not drying out evenly.

Thanks. David

* * * *
David Wallace
Owner/Operator, Maine-ly Bees
Bowdoinham, Maine

by Tonya on May 12, 2006 04:38 AM
I just put it in that pot, but it was growing fine in the plastic pot I bought it in. At first when I bought it, it died back to one little sprig. Now it is branching and doing fine...I even have 3 new leaves!

* * * *


Bote and Babe's World
by Kara on May 12, 2006 05:03 AM
Thank you so much for your help! how often do you guys water your spider plants? When they start drooping?
by Tonya on May 12, 2006 05:53 AM
Mine is right beside my kitchen sink, so I just give it a little squirt from the sprayer about once a week. If you wait until they droop- you will shock them too much( I learned this from experience) and will lose leaves, and eventually the plant if you aren't careful.
* * * *


Bote and Babe's World
by DowntoEarth on May 12, 2006 08:53 AM
Cut the babies off when they get a little bigger and have some of those nubby roots growing on the ends.
by Tonya on May 12, 2006 10:45 AM
Thanks! I couldn't remember!
* * * *


Bote and Babe's World
by snapdragon on May 12, 2006 01:48 PM
Agreed... don't let spiders dry out too much they get "burnt" around the edges. Definitely wait to cut babies until they have some air root. Don't worry it won't be long... they grow rather quickly. I have to give away four or more a year and I started from a baby that was dying at a friend's house 2 years ago.

* * * *
Snapdragon

by Tonya on May 13, 2006 12:54 AM
My best one is a baby from a mother plant my husband's mother gave him 10 years ago...she has had her plant since the 70's. I almost killed the mother tho, I let it dry out one too many times! I losty all but a couple leaves and then realized I had better quit doing that! DUH

I will try to post pics..
* * * *


Bote and Babe's World
by Tonya on May 13, 2006 02:00 AM
this is my "baby from last year...
The "mother" plant is the one in the back with 2 babies from the other plant...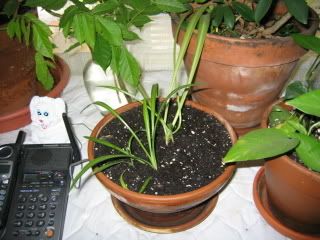 The mother and babies have only been in this pot for about a month. Before that the babies were in water
* * * *


Bote and Babe's World
by pumpie on May 16, 2006 05:14 AM
in case you haven't repotted yet, i suggest leaving the plant where it is. i have a huge spider plant that started as a baby only a year and a half ago. you can't see the pot because of the leaves, it had 4 babies of its own last summer, and has 10 new ones already this spring. it is so root bound i would have to smash the pot to get it out. (it's a clay pot, about 20cm in diameter and 30cm tall--the roots have somewhere to go). each baby branch has about 6 or 7 groups of new leaves and roots. i already have 6 spider plants to give away, so i clearly can't keep up with the growth rate of this plant. any suggestions on how to contain this plant and limit its growth?
by snapdragon on May 16, 2006 03:18 PM
pinch the babies before they even get started. other than that, there is really not much you can do. clipping pre-babies actually boosts the overall growth of the mother plant, but at least you have nothing to give away. the sad part is, since they love being potbound there really is nothing you can do to limit them! good luck!

* * * *
Snapdragon
by pumpie on May 16, 2006 05:49 PM
ok, i'll try that. do you mean to pinch the babies off the branch, or to clip the branch before it even gets the babies? thanks,
amy
by pumpie on May 16, 2006 06:15 PM
i am attempting to share a picture with you, but i don't think it will work. i've only ever been on forums where i can upload photos directly from my computer. if this doesn't work, you can look at
http://amy-hondronicols.magix.net
where i have 2 photos of my spider plant.
by pumpie on May 17, 2006 05:10 AM
i figured out the photos!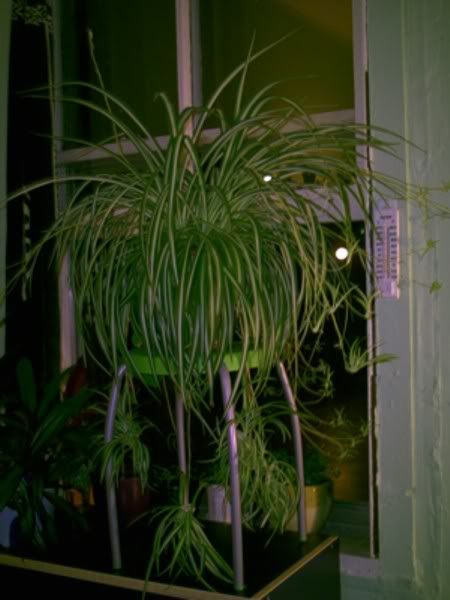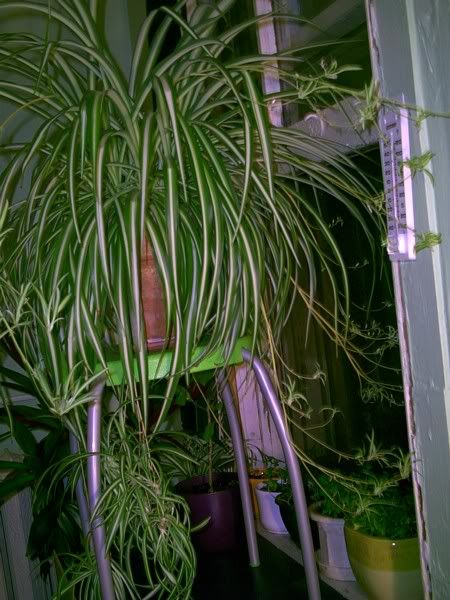 by Tonya on May 17, 2006 12:41 PM
I can't wait for mine to look like that again! That is what it looked like when my hubby and I got married. 2 moves and 2 pots later...you saw the results!

* * * *


Bote and Babe's World
by kirksgirl on May 19, 2006 12:51 AM
Wow thats a beautiful plant. I would love to have the problem of many babies.
by Tonya on May 19, 2006 01:13 AM
Am I doing something wrong with mine or will it take more time to start bushing instead of getting taller? It is very healthy and growing, but it is only growing up and not out??

* * * *


Bote and Babe's World
by snapdragon on May 21, 2006 03:08 PM
okay so in order to get it to be more bushy, if it is growing babies, take out as much of the "streamer" as you can. this boosts growth of the mother plant.
pumpie, I'd suggest repotting soon... obviously extremely healthy (what are you feeding? the color is marvelous!) but it will also send it into "hey I've got root room" mode so that it will stop "birthing" and start trying to be just a momma for awhile.

* * * *
Snapdragon

by gardeningmomma on May 22, 2006 01:16 AM
Should I give them regular miracle grow or is there something special to feed them??
Thanks
by pumpie on May 23, 2006 05:10 AM
i figured if i repotted, the plant would get even bigger--both in bushiness and in number of babies. i will give it a new home, also because it's getting too hard to water. this pot doesn't have a hole in the bottom, so i can't let it just soak water up by itself.

i don't feed it anything. when i was living somewhere else it got a bit of someone else's fertilizer. i haven't kept that up. it gets a lot of sun in a west facing window, but in the summers it gets less direct light in a bright room but at an east window.

the parent plant of this one got kind of abandoned by my parents, so they put it in the backyard in some water last summer. it was pretty dry, so i think its container was empty most of the time. it survived just fine and now it's separated into many new plants, all of which are getting huge again. i think i have a very hardy, fast-growing strain of spider plant.

i will give a lot of it to a friend of mine because it's a really good for cleaning the air like a filter. any thoughts on that property?

amy
by snapdragon on June 04, 2006 05:10 PM
I know there are plants that act as air filters (ferns for one) but I don't know about spider plants...

* * * *
Snapdragon

by Jiffymouse on June 05, 2006 02:06 AM
spiders, peace lilies, ferns and lots of others. there is actually a list of about 10-12 plants with known filtering capabilities.

they also help keep the humidity in a home at a healthy level.
by sybil on June 09, 2006 03:57 AM
I need advice.. I had a spider plant for the last 15 or so years. Many people have wonderful spiders from my plant. I've never had a problem. I'd repot every couple of years, and was rewarded by a most beautiful plant.
I moved into a apartment style condo 2 years ago, and my beautiful spider plant up and died. I have good sunlight, it was never dried out etc.I bought a new one and IT promptly died as well as a couple of ivy's I purchased.I do have other plants that are still "up and about" and am really concerned about the air quality in the condo.Does anyone have any ideas what my problem COULD be??

* * * *
Old age ain't no place for sissies

by AprilHough on June 09, 2006 04:21 AM
I have a spider plant I started then it ided an d I recieved some new ones and put them in this big pot, is that maybe my problem, IT looked like it was doing alright untill we put outside and now it is sunburnt...how can I keep it alive, because it looks really rough...april
by joclyn on June 09, 2006 04:29 AM
well, if the condo is newly constructed, the building will be more airtight than something 10 or 15 years old and, of course, buildings built before that will not be too airtight at all.

there's also the issue of the materials used - most new construction has tyvek sheets added before siding is put on - keeps the building energy efficient also blocks most air circulation too.

your concerns are real. when a building doesn't breath, toxins (like those that plastics give off) stay inside and newer construction has more man-made components than older buildings (which are basically wood and brick/morter with no moisture barriers like the tyvek) so the air quality might not be so good.

spider plants are one of those known to be a filter tho, so i'd say there is some other issue on top of the air quality.

do the plants you are choosing have enough light for their requirements? what about water? do you use your tap water? if so, do you let it sit overnight so that the chlorine in it can dissapate?

there are also other things in the water that might cause a problem. for example, i've always had a fish tank. never had a problem with the water in nj; when i moved back to pa, something made me test the water. high levels of ammonia in it! good thing i tested before setting up the tank as i would have killed all the fish immediately! (there's a treatment that can be applied to remove the excess ammonia)

the spider plant may have just reached the end of it's lifecycle. i'm not sure how long they usually live - 15 years sounds like a long time tho!

you can do tests for the air quality as well as what, exactly, is in your water. if you aren't getting sick, i wouldn't worry about it too much, tho. try choosing different plants...things that are a better match to the conditions in your new home (sunlight levels as well as what direction your windows face).
by Muskrat on June 09, 2006 09:28 AM
How did you keep that spider plant from getting gigantic? Mine always get so big you can't see the pot it is in anymore.
~Amie
Search The Garden Helper: