Dieffenbachia
Gardening Reference » Gardening in 2006
by Triss on March 05, 2006 01:38 AM
I split up my big dieffenbachia this week and here is what I ended up with.
This is the bulk of the plant, that is at my mother-in-laws house.
And the two that are now at my house.
Anyone else have dieffenbachia to share???
* * * *


We are all under the same stars... therefore we are never far apart.
by plants 'n pots on March 05, 2006 02:15 AM
ok - I had a whole post ready with pictures and all, and then lost the internet!!!

Here goes again...
Those plants look terrific, Triss!
Isn't this a great, easy, and pretty much indestructible plant? Only problem it has, is that it's highly toxic if ingested, so be sure to wash your hands after handling!

I have a few pictures to share of my diffs.
I got the original about 12 years ago, shortly after moving into the house. Here it is, with many stalks that had been cut from the momma placed back into the pot.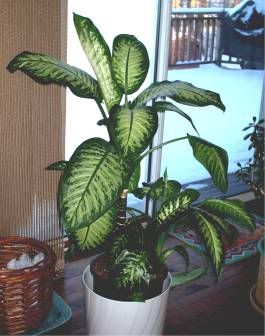 This plant is one of the "babies" and is in the corner of our bedroom. On the floor next to it is a piece of the original wood water pipes from the NYC water system - a rare thing to have - one of Don's friends gave it to him - the friend works for the Dept. of Environmental Concerns.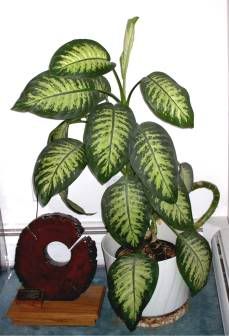 This last one is in another corner of the bedroom. It is the latest cutting from the momma. The bottom leaves all came off, so I planted some jade cuttings in the soil to hopefully help fill it in.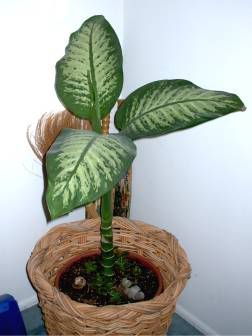 Anyone else have pictures or info to share of these plants?
* * * *


Lynne's knitting journal
"I'm spayed, declawed, and housebound - how's YOUR day going???"
by Triss on March 05, 2006 02:21 AM
Those look really great Lynne!
I am hoping to get more babies off mine since I nicked some of the longer and crooked stems and stuck them in the dirt as well.
And I washed and washed after I planted all of mine. Kept the kids far away too and keep mine way up high so they cannot get to them.
* * * *


We are all under the same stars... therefore we are never far apart.
Similar discussions:
Search The Garden Helper: