Flower Cups
Gardening Reference » Gardening in 2006
by JV on March 08, 2006 08:24 AM
Was given these for flower pots but cactus looks better in them.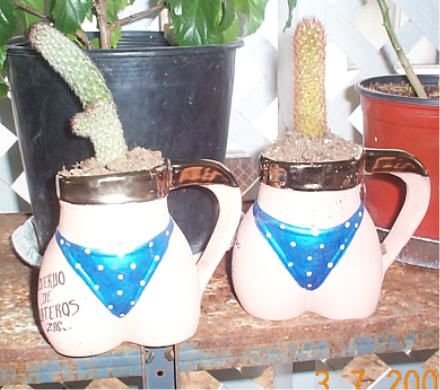 Jimmy
* * * *


Meet Clyde my Male Sugar Glider. Clyde says.
Keep it organic
GOD BLESS THE U.S.A.
Pray for our Troops!
by afgreyparrot on March 08, 2006 08:51 AM

* * * *



Buckle up! It makes it harder for the aliens to suck you out of your car!
by jonni13 on March 08, 2006 09:04 AM
They do look good in there, Jimmy.

* * * *
~Tina


Getting old is the pits. But it sure beats the alternative.
My Blog
by angelblossom on March 08, 2006 09:53 AM
Double the pleasure huh Jimmy????
* * * *


Sorrow looks back, Worry looks around, Faith looks up!


http://photobucket.com/albums/e374/2thtek/


by comfrey on March 08, 2006 01:33 PM
Very unusual Jimmy! But cute.
* * * *


by MissJamie on March 08, 2006 02:20 PM
hmmmmmm.... what cindy said
they do look good though! nice choice of cacti! ok Jamie shutup! don't put foot in mouth!! ok I'm leaving now...
* * * *

*~*Last night I played a blank tape at full blast. The mime next door went nuts.
*~*
http://www.imagestation.com/album/?id=2125497034
by Patty S on March 08, 2006 03:25 PM
Jimmy, I love those bikini mugs, but if you don't mind my saying, I think that your blue African Violets would look better in them than those Cactus do! (Unless the cactus make blue flowers... something to even up the blue, is what they need.)
BTW, the seeds you sent came in todays mail ...AND the little Mousetail!
I LOVE IT!

Here I was expecting only the Red Texas Star Hibiscus seeds, but found the Mousetail and Yellow Manihot Hibiscus seeds in with them! Thanks GOBS!

(I'll nick them & get them started tomorrow!)
* * * *


Similar discussions:
Search The Garden Helper: