plum tree questions
Gardening Reference » Gardening in 2006
by eClaire on May 23, 2006 07:20 AM
I was wondering if it is ok to move a small plum tree this time of year - it is already in the 70-80 daytime temp range here, and we actually just planted the tree in march. It is not doing well and is sinking into the ground, we have had tons of rain, and i want to move it a spot with better drainage.
The leaves also have tons of small holes in them, my mom said it would die if we didn't treat it for whatever pest is doing that - but I can't see any bugs on the leaves!
I have never had a tree before, so i am fairly clueless. Please help.
Thanks.

* * * *
Claire

by eClaire on May 23, 2006 07:56 AM
here's a picture: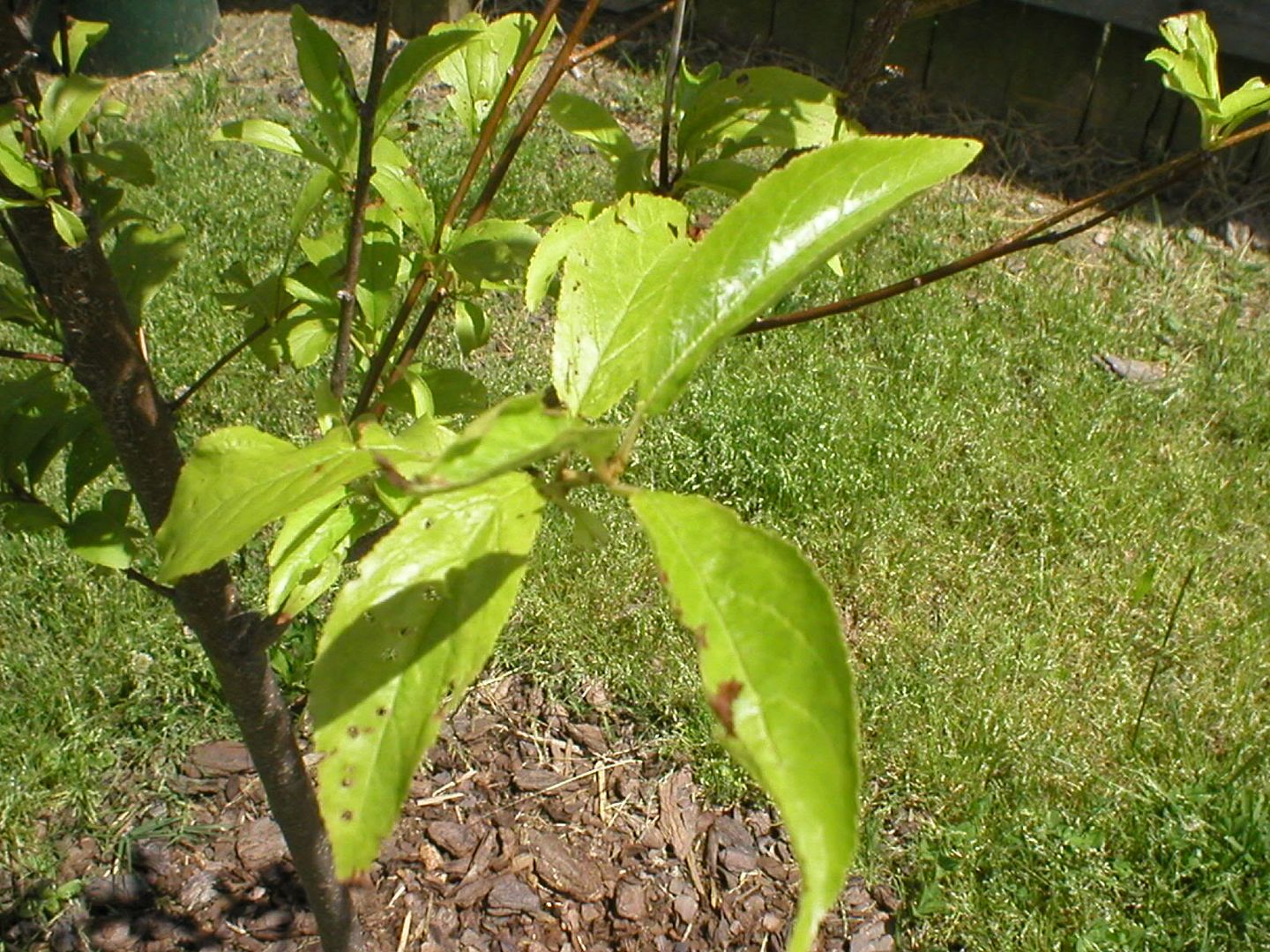 * * * *
Claire
by RugbyHukr on May 23, 2006 10:29 AM
if it is sinking, you probably planted improperly.
try spraying botanical hot pepper spray on the leaves to deter munching.
* * * *

I love the sweet scents wafting in the breeze. I stop to admire the vibrant colors of all living things. And people think me odd. Then ODD I am!!!
http://community.webshots.com/user/flugnash
by The Plant Doc on May 23, 2006 03:07 PM
I can't tell for sure but it looks like pear slug damage.
Pear slugs (saw fly larva) can be very hard to see as they are transparent and take on the color of whatever they are eating. They easiest found on the plant early in the morning as with other true slugs they tend to shy away from bright light.
* * * *

Mike Maier
aka
The Plant Doc
by eClaire on May 25, 2006 02:14 AM
Thanks! I actually found a slug in the soil yesterday....I have never had slugs or snails in my yard before, so I wa surprised. I think new critters rode in on a plant from the nursery.

* * * *
Claire

Similar discussions:
Search The Garden Helper: