help with orchid
Gardening Reference » Gardening in 2005
by guynvb on December 08, 2005 08:58 AM
Hi everyone,
I have had an orchid for a couple of years now. Unfortunately, due to overwatering, I have lost a few very large leaves.. however, this plant seems to be thriving very much! I cut back on the water recently and it seems to be doing well. I posted a pic here so you can see it. I guess all these spikes coming out are flower spikes?? And notice the base of the plant and a new node is coming out, not sure what that is. If you guys could advise what I should do next I would most appreciate it. Thanks.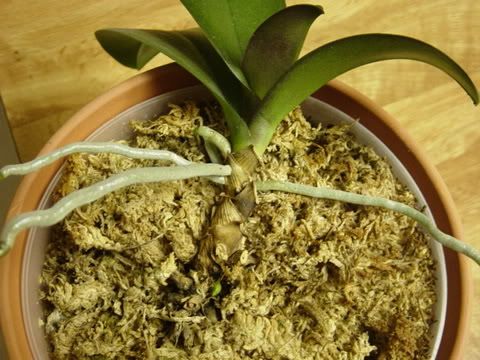 by Sorathien on December 08, 2005 02:18 PM
those long white spikes are roots. that's an epiphytic orchid, they have roots that are incredibly tough and attach to things like super glue.

the little green bud is a new leaf segment.
by guynvb on December 09, 2005 11:05 AM
Should I actually do anything or what do you suggest at this stage? Are the roots going to keep growing out.. should I trim them, etc.
by joclyn on December 09, 2005 12:15 PM
i was given two orchids that looked like that. i VERY carefully removed it from the pot and VERY, VERY carefully AND gently curled the roots down and then put it in a bigger pot and covered all the roots again. they immediately started to do much better - lots of new growth and one of them sent up a bloom.

i don't know anything about how they reproduce, but it looks like you've got another one growing. i've never had one that had an offshoot like that and i have no idea what to tell you to do with it!
Similar discussions:
Search The Garden Helper: