Bleeding heart
Gardening Reference » Gardening in 2006
by Meg on April 07, 2005 05:34 AM
I bought this from Walmart this week.. it was soooo cute! I couldn't resist!!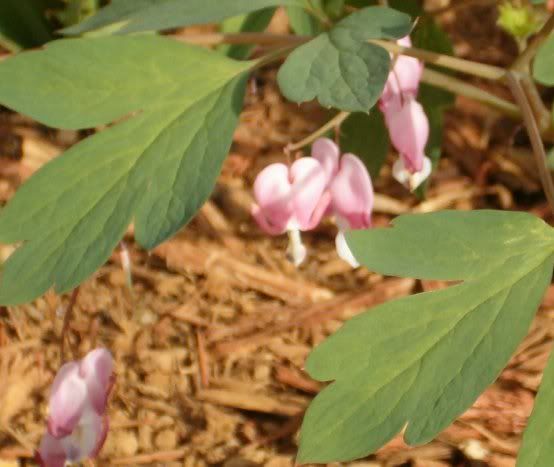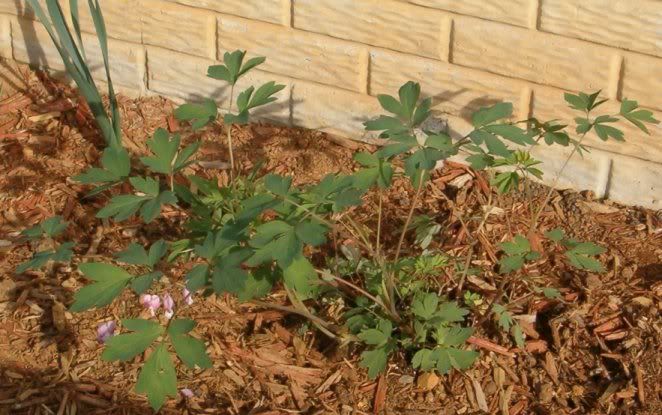 So, do these have any "special needs" or is it gonna be ok with my deadly black thumbs?

Meg
* * * *


I reject your reality, and substitue my own!
My favorite digital camera photos that I took.
My family, garden, and a bunch of misc. photos!
by Dixie Angel on April 07, 2005 03:20 PM
Sorry I can't answer your question, Meg. Just wanted to tell you those are beautiful. It would have been hard for me to resist them, too!

Dianna
* * * *

by obywan59 on April 07, 2005 04:46 PM
They like moist, humus rich soil and partial shade but will tolerate full sun in cooler zones. The leaves will go dormant if it gets dry in the heat of the summer. I just divided mine and replanted 4 clumps into a couple of my hosta beds, so that the hostas will fill in the space when they go dormant. I planted a fifth clump at the front of my house in full sun as an experiment.
* * * *

Terry
May the force be with you
by princessazlea on April 07, 2005 10:55 PM
Hi Meg
I have a bleeding heart in my garden. In the winter they die off and it looks like its dead and it has dry twigs, but don't pull it up, it will grow back beautifully, just like your picture.

* * * *


"Knowledge speaks, but wisdom listens".
by Rachel87r on April 11, 2005 11:59 PM
Speaking of bleeding hearts I planted a bareroot recently and I've been waiting for some sign of it, but theres no change. Did I do something wrong or does it always take this long to come up?
by hisgal2 on April 12, 2005 12:08 AM
I planted a bareroot last year and it took a little while for it to come up. I had to make sure that I kept that area watered well. It didn't grow much last year, but this year, it is looking pretty good.
* * * *


by loz on April 13, 2005 02:23 AM
I love my bleeding heart!!! Mine's white though...and although they do require shade the nursery I bought mine at said that they also have a variety that can be put in the sun....I might buy one of those this year. My BH has come up right now about 5 or 6 inches tall......

Aren't they cute Meg???? I always wanted one and last year I decided what the heck......

by duckie on April 13, 2005 04:39 AM
I love bleeding hearts.My friend has some growing in her shade garden.They only bloom for about 3 weeks, but they are so beautiful.
3 years ago I planted fern-leafed bleeding hearts in my garden.The plants are much smaller,with fern-like foliage.But they bloom all summer and are really pretty.
* * * *


by Meighan on April 10, 2006 01:54 AM
I have 2 traditional, and 3 'dwarf bleeding hearts' which I purchased from springhill. Although I love them all, I have to say that the dwarf are AMAZING, as they flower from early summer untill the first hard frost. The foliage will stay healthy and green as well, even with the brutal summers here in Delaware. You might want to consider picking up a few!

* * * *
Fumbling gardener
by dodge on April 17, 2006 12:04 AM
i have the ole fashioned red bleeding heart and the Fernleafed bleeding heart.. It came with my house when i bought it.. fernlead..I just recently found out what it was .. catalog ..
It stays short and smaller hearts.. I will send photos after them bloom<, They are headed up real well right now.. Love the cold climate.
They are hot weather or sun lovers.. One is on the north side , the othe on west side with half a day of sun.
photos later. dodge


* * * *

''''Those who live in the Lord Never See Each Other For The Last Time!''''
by tkhooper on April 17, 2006 03:44 AM
I tried them once I wasn't successful so I haven't tried them again.
* * * *


by dodge on April 17, 2006 04:02 AM
Hey tk
Wanna try them again???????
They are doing great now ready to go to anyone else..
Try me>.
dodge
* * * *

''''Those who live in the Lord Never See Each Other For The Last Time!''''
by loz on April 17, 2006 04:08 AM
Here's mine....it's just starting to bleed!
I love it! I want a few more actually!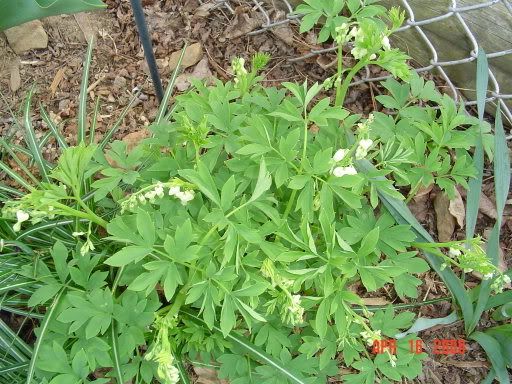 by dodge on April 17, 2006 04:13 AM
loz,
You cheat.......Mine is only 5 inches tall .. You have white..??
Would you want to swap for some red> ?
I have 2 types.
One like yours red and Fernleaf bleeding heart.
You can have either or both..



Maryland is warmer I know.. my sis used to live there..dodge
* * * *

''''Those who live in the Lord Never See Each Other For The Last Time!''''
by slredmond on April 17, 2006 09:27 PM
Duckie - Love my fern leaf too. I can't believe how long the thing bloomed last year. Absolutely beautiful plant.

* * * *
Sandy R.

by dodge on April 18, 2006 12:31 AM
Right .
mine get about 2 foot and 2 foot wide.
I have the smaller Fernleaf bleeding heart that is short and sweet.
dodge
* * * *

''''Those who live in the Lord Never See Each Other For The Last Time!''''
by morninglori on April 18, 2006 08:36 AM
I love bleeding hearts. They are so cute. I had two and they didn't make it last summer (even in serious shade). Too hot for them.

ps. If you are talking about plant exchange, how exactly do you do that without the plant dying? Inquiring minds want to know.
(overnight UPS)? Are there any plant shipping regulations to worry about?
by dodge on April 18, 2006 08:49 AM
NAY, YOUR BARKING UP THE WRONG TREE......
I USE REGULAR POSTAGE.. CLEAR TO CALIFORNIA AND THEY GET THERE FINE.. nO REGULATION THAT I KNOW.
i PUT MINE IN PLASTIC CONTAINERS FROM GRAPES I GET AT THE STORE.. GOODIES COME IN PLASTIC CONTAINERS AND FOIL. tHE IS A GOOD SHAPE HOLDER. I TAKE AND PUT THE PLANT OR CUTTINGS IN A PLASTIC ZIPLOC.. WRAP THE ROOTS IN WET PAPER TOWELS..ZIP THE TOP SHUT AN JUST ADD A LITTLE NEWSPAPER TO KEEP IT SOLID......pUT IT IN A BUBBLE ENVELOPE AND TAPE IT GOOD......
YOU GOT IT ....
I HAVE NO PROBLEMS. GETS TO CALIFORNIA IN 3 DAYS, FROM PENNSYLVANIA.
DODGE
* * * *

''''Those who live in the Lord Never See Each Other For The Last Time!''''
Similar discussions:
Search The Garden Helper: