Blooming Orchid
Gardening Reference » Gardening in 2006
by DustyDS on June 08, 2006 04:01 AM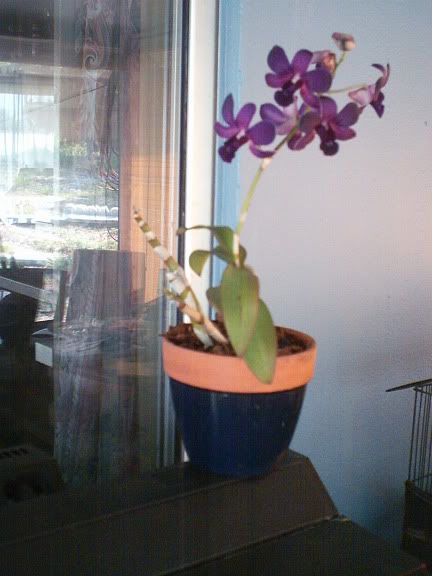 by plants 'n pots on June 08, 2006 04:08 AM
oooooooooh - pretty Dusty!!!


Is that pot perched on a fishtank lid?
It's making me a bit nervous!


* * * *


Lynne's knitting journal
"I'm spayed, declawed, and housebound - how's YOUR day going???"
by DustyDS on June 08, 2006 04:15 AM
Thanks Lynne.. Yes I set it up there to take the pic.. its back outside now..
We really need an Orchid Category here...Mine are Not Houseplants
by penny in ontario on June 08, 2006 04:23 AM
by Fernie on June 08, 2006 05:20 AM
wow!!!
* * * *

GO DAWGS!

by Tonya on June 08, 2006 09:31 AM
LOVE the orchid! Doug bought me one like that when we were just dating...It didn't even make it to the wedding

I don't do well with orchids! You, on the other hand apparently do quite well!
* * * *


Bote and Babe's World
by gardeningmomma on June 08, 2006 02:32 PM
That's beautiful! Now I want one

by joclyn on June 09, 2006 04:59 AM
ooooooooooo! how pretty!!!!! what kind of orchid is that???
by DustyDS on June 09, 2006 05:16 AM
It is a Dendrobium, but I dont know the variety as it was almost dead with no medium or tag when I got it ..
Search The Garden Helper: