Cardinal Flowers (Lobelia cardinalis)
Willy's Place » Plant Pictures and Profiles
by Bill on August 20, 2005 11:28 PM

The intensely bright red flower spikes of the Cardinal Flower
(Lobelia cardinalis)
serve as a beacon to the hummingbirds and butterflies who dine on the flower's nectar. The plant itself also acts as a host for some species of butterfly larvae.
Cardinal Flowers can be found growing naturally in marsh areas and along wooded stream banks in almost every state except in the Northwest. The plant forms two foot clumps which produce many 2-3 foot, long lasting flower spikes in late summer.
They are easy to grow and care for, but unfortunately are rather short lived and will need to be replaced every 3-4 years.
Cardinal Flowers (Lobelia cardinalis) are hardy in
USDA zones 3-9.
In most areas, they should be planted in full sun but in hot climates they will require partial shade. The soil must be kept moist or wet at all times. In colder climates, provide a good covering of mulch for winter.
Cardinal Flowers can be propagated by
seeds
sown in the Fall, division of the plant in early Spring, or
softwood cuttings
taken at mid-Summer.
NOTE:
For Spring planting, the seeds of Lobelia cardinalis require a three month period of cold-moist stratification in the refrigerator prior to sowing
.
Lobelia cardinalis 'Queen Victoria'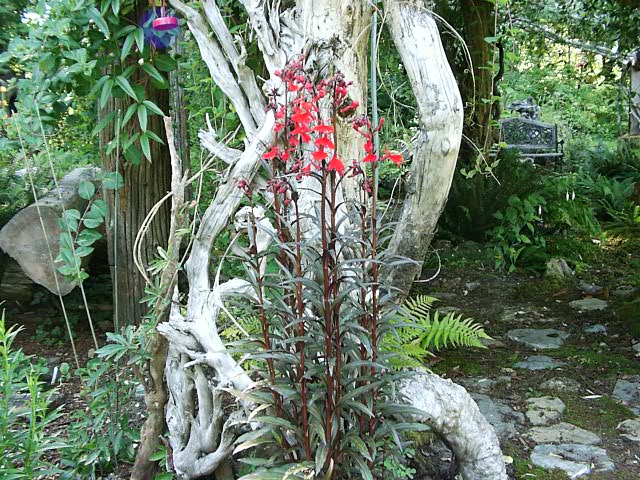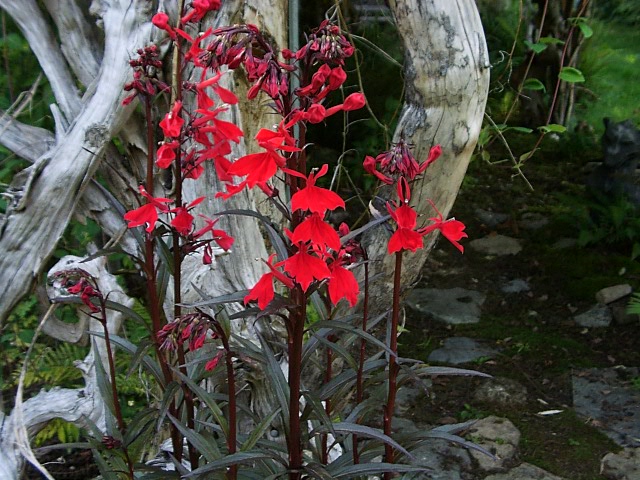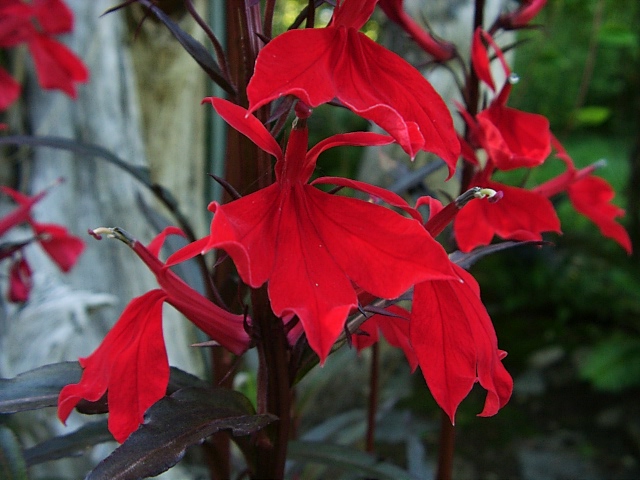 These are Cedar Hill flowers!
* * * *

by loz on August 21, 2005 01:56 AM
I bought one of them last year and looking at this picture just made me realize it didn't come back up this year.....I seriously had forgotten all about it.

Thanks for the pics Bill...the red looks nice against all of the greenery.
by afgreyparrot on August 22, 2005 10:24 AM
I love these plants.....
Me and Brennan dug some of these up somewhere

last year...and when they came up this year in the hummingbird garden I thought it was a weed (memory problem happening there as usual)...so I pulled them up.
Did the same thing with the wild asters we planted around the pond.
I like to make gardening a lot harder than it needs to be.....

(Increase the "level of difficulty" for extra points?)

Cindy Faye
* * * *



Buckle up! It makes it harder for the aliens to suck you out of your car!
by gardenmom32210 on August 22, 2005 08:09 PM
Beautiful pictures,Bill

I gotta find some of that to plant with my mexican petunias.
G-Mom

by Triss on August 22, 2005 11:58 PM
Gorgeous flowers Bill. REally enjoy that deep red!
* * * *


We are all under the same stars... therefore we are never far apart.
by princessazlea on August 24, 2005 05:32 AM
Those flowers are very pretty

* * * *


"Knowledge speaks, but wisdom listens".
Search The Garden Helper: