Rose Daphne (Daphne cneorum)
Willy's Place » Plant Pictures and Profiles
by Bill on June 03, 2004 04:43 PM

Rose Daphne
(Daphne cneorum)
is a very fragrant, low growing evergreen shrub which produces its main flush of blooms in the Spring but will often produce more flowers throughout the Summer. This small shrub is excellent as a ground cover or as foreground plantings in beds, growing to a height of one foot, with a 2-3 foot spread.
Rose Daphne grows well in sun or light shade in
USDA zones 4-8
. They should have protection from strong winds to ensure that they grow upright rather than "leaning" to the side, and should be planted in moist, well draining soil with a nearly
neutral pH
. Rose Daphne does not transplant well once it has become established.
Daphne cneorum 'alba'
is a smaller (6" tall) variety which produces white flowers.
Rose Daphne may be
grown from seed
or propagated from
softwood cuttings
.
How to grow Rose Daphne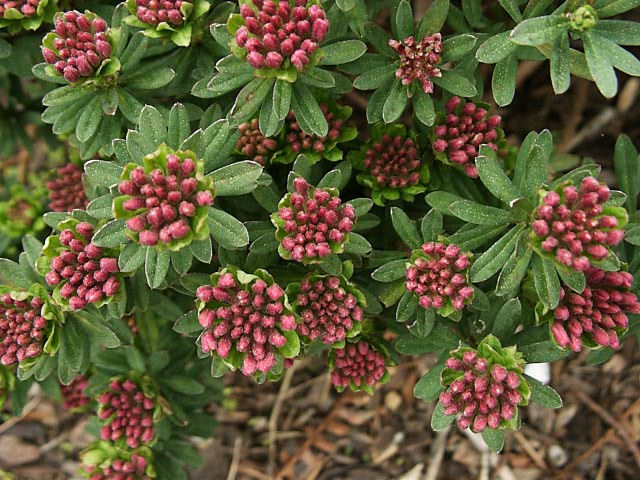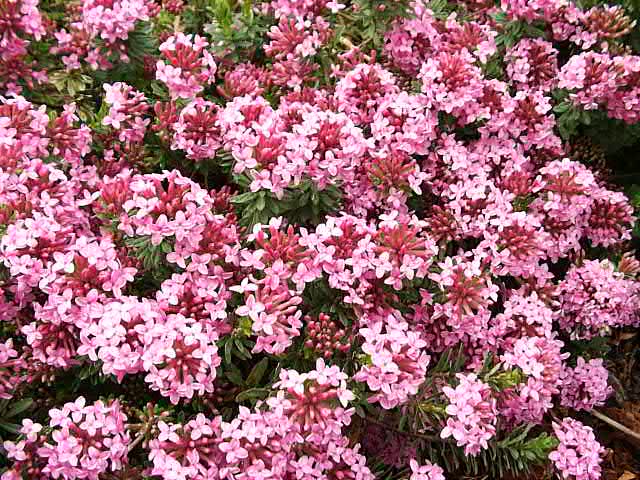 This is a Cedar Hill flower!
* * * *

by catlover on June 03, 2004 09:28 PM
Oh wowwww...it has sooo many blooms.
So when are you sending Rose Daphne seeds to California???


* * * *



by Jiffymouse on June 05, 2004 01:22 AM
and georgia?

by weezie13 on June 05, 2004 04:02 PM
by way of New York!!

* * * *
Weezie
Don't forget to be kind to strangers. For some who have
done this have entertained angels without realizing it.
- Bible - Hebrews 13:2



http://photobucket.com/albums/y250/weezie13/
by Bill on June 06, 2004 11:16 PM
I'm sorry!

I went out and looked and there are no seeds to collect and send to you all...

* * * *

by catlover on June 07, 2004 07:12 AM

I seem to recall you stating there is another way of propagating???
quote:

---

propagated from softwood cuttings

---




* * * *



by tkhooper on March 25, 2005 01:43 PM
got yourself in a pickle there.
* * * *


Search The Garden Helper: