Back from Home Depot! Look what I got...
Gardening Reference » Gardening in 2006
by FlowerNewbie on March 03, 2006 06:41 AM
6" Pot Spider Plant $6.96 (hopefully it will grow as well as my fake one
)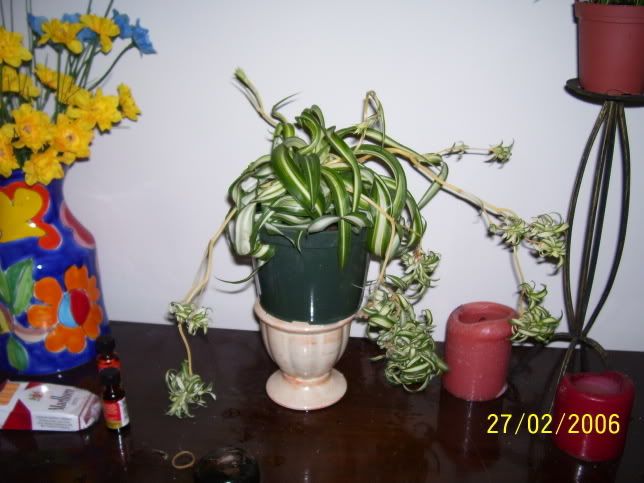 10" Pot Kimberly Queen Fern $9.99 (this thing is huge!)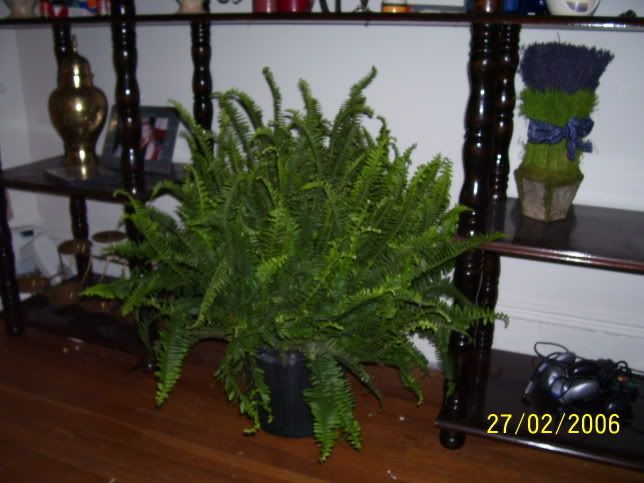 3.8 Pepernomia "variegated green valley" & Ivy "Small leaf green" $2.49 each (couldn't help my self they were such cute and healthy little plants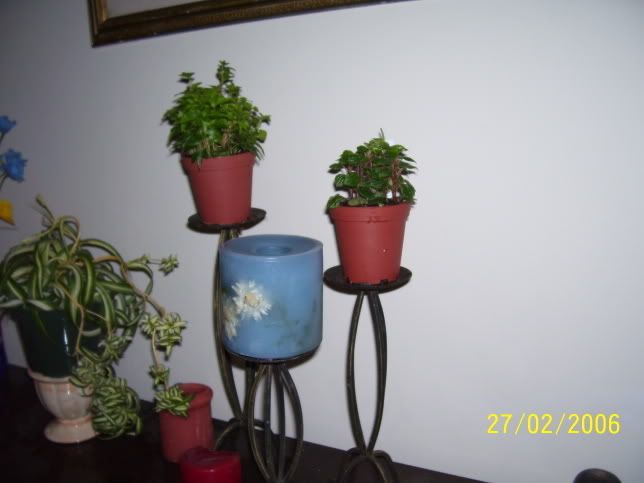 My cute little watering cans to hold my av's! only $1.00 each (I only bought 4 but after seeing them in these pots I have to buy more!!! I don't even have to re-pot them and they look great...)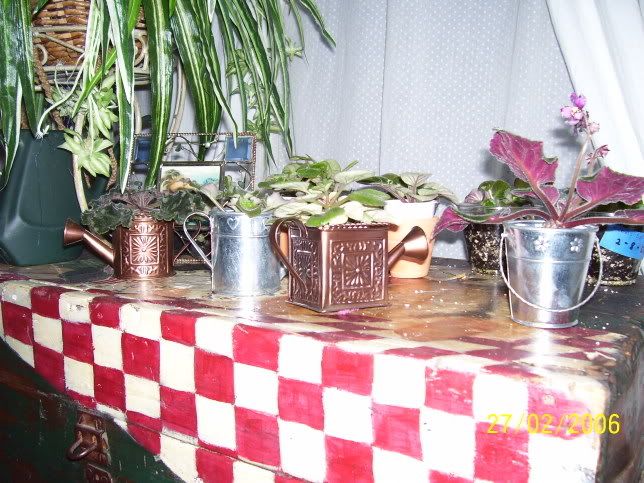 My itsey bitsey little clay pots they are only 1." (These will be perfest for those little guys to promate fast growing!)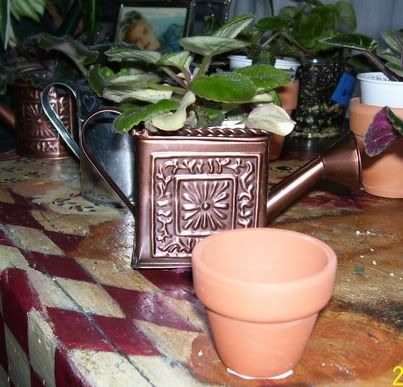 What do you think did I do good? You guys find better buys? Any care recomendations?
* * * *


Kitten in Life

, Tiger in Love

by SpringFever on March 03, 2006 06:54 AM
That turned out nice.. I do like the little tins!
* * * *


Tonight I am having friends for dinner... Hanibal Lector
My Album
by melcon6 on March 03, 2006 07:09 AM
OOOooooooooooooo, You did great!

Everything looks so nice and healthy.





* * * *

HAPPY BIRTHDAY CINDY!!!!!!!
by FlowerNewbie on March 03, 2006 07:11 AM



This is FlowerNewbie super happy about her new plants and not depressed about gardening ANYMORE



!!!
* * * *


Kitten in Life

, Tiger in Love

by rozy221 on March 03, 2006 07:56 AM
LOL Flowernewbie! Looks like you did good! I LOVE those little watering cans. I notice you're from Boston-are you going to the flower show next weekend? We went last year and we're going again this year on Saturday (3/11)-I can't wait!
by FlowerNewbie on March 03, 2006 08:04 AM
Really actually never heard of it. How can I find out about it?
* * * *


Kitten in Life

, Tiger in Love

by barleychown on March 03, 2006 08:27 AM
Wow, a curly spider plant! Good score!
And the AV's look awesome in the tins.

* * * *


We do not see things as they are, we see things as we are.
by melcon6 on March 03, 2006 08:30 AM
Check this out, FN
http://www.masshort.org/showpage2.asp?page=2_0
* * * *

HAPPY BIRTHDAY CINDY!!!!!!!
by FlowerNewbie on March 03, 2006 08:58 AM
That looks pretty cool, kinda pricey per ticket though... is it worth it? Considering I can only do houseplants?
* * * *


Kitten in Life

, Tiger in Love

by FlowerNewbie on March 03, 2006 09:12 AM
ohhh just looked at the gala... looks nice but can't afford $300 that's for sure!
* * * *


Kitten in Life

, Tiger in Love

by FlowerNewbie on March 03, 2006 09:19 AM
oops, just checked the weather for sat. 11th - it's supposed to rain

But at least it's going to me in mid 40's
* * * *


Kitten in Life

, Tiger in Love

by rozy221 on March 03, 2006 11:30 AM
Yes, the tickets are somewhat pricey. But they really have some great displays-quite a few of them. And then there's the stands that sell houseplants. I always try to find some unique plants there. Rainy weekend = great time to escape to some "fantasy" gardens!
by tkhooper on March 03, 2006 09:14 PM
Good looking tins nice buys.
* * * *


by FlowerNewbie on March 07, 2006 01:42 AM
Hey guys, I decided to go to the flower show - by the way looked at weather today and looks like the rain moved to thurs - fri and the high is 56!! Awesome! I'm gonna do a posts in the banter hall to see if other people are going... Perhaps we could have a mini "garden forum" get together in boston

.... wouldn't that be fun!
* * * *


Kitten in Life

, Tiger in Love

by patches1414 on March 07, 2006 02:03 AM
I love the Kimberly Queen Fern, it is beautiful! Great buy!!!

patches

* * * *


"Lord, I love you and I need you, come into my heart, and bless me, my family, my home, and my friends, in Jesus' name. Amen!"
by Erich on March 10, 2006 08:31 AM
Nice fern.
by carnivorousplantsarecool on March 12, 2006 11:44 AM
Like the ferns and the tins.


by Mandyz on March 13, 2006 04:27 AM
love the fern and curly spider plant. I feel an urge to go plant shopping! Lately I've been trying new plants from cuttings... going so far as "borrowing" cuttings from plants I like at restaurants and so forth. Unfortunately none have survived the trip home in the winter.

I recall you asked for care advice - so I'll mention that if you have cats to keep them away from the spider plant. Spideys are toxic (because they are so effective at absorbing the toxins in your home) and cats love the long chewable leaves. At least, every cat I know does. I recently had to toss a few spiderettes I got from my supervisor's office because they were just too toxic! My cat was vomiting immediately after one small chew.
by Cricket on March 13, 2006 06:13 AM
For little understood physiological reasons, cats will sometimes chew plants, particularly grasses and grass-like plants, to induce vomiting. That might have occurred with your cat, Mandy, but spider plants are safe, non-toxic plants to grow around cats. The only reason to remove spider plants from the reach of cats is that they are a favorite menu item for many cats who graze them to the soil line.

In nature, cats incorporate plants into their diet. Indoor pets frequently chew on houseplants because of restricted access to outdoor greens. Growing a pan of kitty greens is helpful in discouraging cats from chewing indoor plants.
by Will Creed on March 13, 2006 06:58 AM
Hi Mandy,

There is much confusion about certain plants that have been identified as superior at removing air pollutants. Research subsequent to 1984 has established that many other common houseplants are rated as being even more effective than spider plants at removing indoor pollutants. But that is another topic all together.

It is actually the soil that is the key to air pollutant removal. There is no evidence that the removed pollutants are then transferred to the plant tissue. Thus, there is no connection between a plants ability to remove pollutants and its toxicity.

Cricket is right that spider plants are considered non-toxic.

Will Creed
Indoor landscaper
by FlowerNewbie on March 13, 2006 11:55 PM
Well I don't have any pets - I have a 1 year old and a growing by the day variety of plants - that's enough for me. I do love cats though because of there ability to be independent and loving when you want them to but away when your busy. As well as the easy train cat litter thing. I've never been good at training dogs and they have never lasted in my home. I've always had a cat but my younger brother is allergic (he's only 11) and I promised him that when my cat was gone I wouldn't get another. Since he's frequent at my house I'd better keep that promise. Also now that I have this gardening hobby I couldn't imagine coming home to some awful mess or having them distroyed.
* * * *


Kitten in Life

, Tiger in Love

by bettyboop1948 on April 29, 2006 04:35 AM
Yes u did a great job on getting your new plants
they all look so good and the pretty tin,s are great too


bettyboop1948
great buy,s
I found a great plant while out walking so i took some I think will help the hummers come to it

bettyboop1948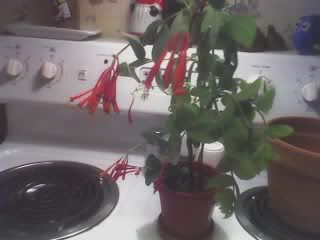 by joclyn on April 29, 2006 04:41 AM
i LOVE the metal watering cans!!!!

i've got a ton of those 1 inch clay pots - they're terrific for those tiny starter plants!!
by gardeningmomma on April 29, 2006 04:19 PM
They look so nice and healthy! Good job

Search The Garden Helper: