Amaryllis
Gardening Reference » Gardening in 2004
by Sami on October 09, 2004 02:56 AM
Ok, so, I still haven't done anything good with my amaryllis bulbs.
I have 4. I took 2 out of the pots because there were no leaves left and figured I should pull them out for the season. I still have 2 in pots. One is still green & pretty, the other isn't. I figure I need to pull them up, too. Do I need to do anything special with this one that has leaves? And, I'm putting up some pics of my 2 bulbs that I have pulled up. They still have roots on them. Do I do anything special to these? Let them dry & sit up for at least 6 weeks, right? Then replant them & they will possibly bloom?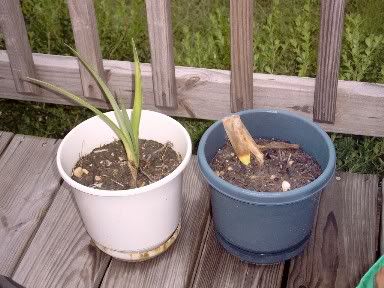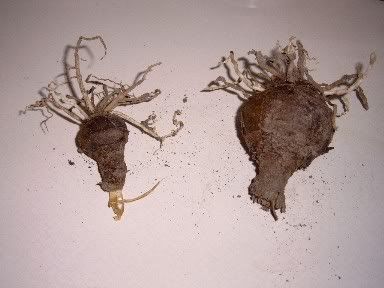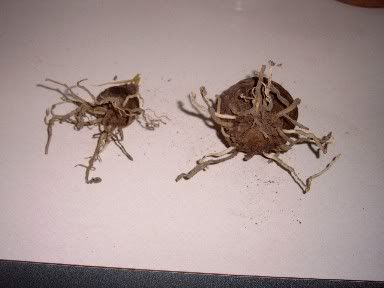 * * * *

Talentless but connected.
by Bill on October 09, 2004 03:20 AM
You've got to keep the bulbs in the
dark
for the 6-8 weeks or you will get some great foliage but no flower when you re-start it into growth.
http://www.thegardenhelper.com/amaryllis.html
* * * *

by TomR on October 09, 2004 05:36 AM
You have to keep them in a cool,dark place. Check them every couple of weeks. When you see WHITE new leave tips starting to come up re-plant and water with warm water and put in a bright west,south or east window.

Tom

* * * *
My memory's not as sharp as it used to be. Also, my memory's not as sharp as it used to be.

by weezie13 on October 09, 2004 06:21 AM



Hi Sami,
Whatchya been up too??????????
How's work???
Go to the returning member's and say HI



It's awefully quiet without you around!!!


Weezie
* * * *
Weezie
Don't forget to be kind to strangers. For some who have
done this have entertained angels without realizing it.
- Bible - Hebrews 13:2



http://photobucket.com/albums/y250/weezie13/
by Carly on October 09, 2004 07:08 AM
Sami, have you got any pictures of other roots?
I had a really great idea for a series with pictures of roots and wouldn't mind using your pictures. Giving you the photo credits, of course.
* * * *

When sorting seeds, do not whistle.
by Sami on October 09, 2004 09:59 AM
I don't think I have any other root pics right now, Carly, but I am always taking pics of stuff around my yard, so I may before long.
Hey, Weezie. Works going good but it's been such a career change (going from a telecommunications atmosphere to a medical atmosphere) and getting back into the swing of things has kept me off the net a lot more. I've learned so much here & I'm it's time (fall) to put some of that knowledge to work so I've been spending most of my "free" time trying to do my fall planting.
Thanks for the info Bill & Tom R...what do I do about the one that's still green? Do I let it "die" off or do I dig it up & cut the leaves off (I think I read not to do that).
* * * *

Talentless but connected.
by gardenmom32210 on October 09, 2004 04:04 PM
I've got tons of amaryllis. They are planted in the ground in a spot that is shady in the winter and sunny in the summer. I never dig them up and I get blooms twice a year from them. I don't cut the leaves off until they are brown and on the ground.
Hope this helps!
Karen

by Sami on October 09, 2004 08:48 PM
That helps a ton, Karen! So, I'll replant them in the ground this spring & leave them there.
* * * *

Talentless but connected.
by Triss on October 09, 2004 09:29 PM
Karen or anyone else who can help,
Can I force a second bloom indoors? Mine bloomed a couple or three months back and is in the ground right now and went through one freeze night where it got down to 30ish. It has been since then and I would love to force it indoors since I want to move it anyhow. If I force it now, will it bloom again next summer and will it even bloom now since it already has this year?
TIA
Triss
* * * *


We are all under the same stars... therefore we are never far apart.
Search The Garden Helper: