Gardening on a slope
Gardening Reference » Gardening in 2006
by Mandyz on June 04, 2006 01:26 PM
I am preparing to start two vegetable gardens in my backyard, which is sloped. Last summer when we bought the house I removed a small patch of the sod and transplanted my potted herbs. They loved it!
Now we've dug up a larger space around the herbs and started another area across from it. We intend to try and terrace the gardens a bit - but we're working on a budget of almost nil. We plan on scavenging some wood from the local landfill/ recycling center. They have pallets there, as well as free mulch and compost (of low quality). I've already tested the soil and it's pretty much "neutral" on all counts. I don't need to add much, although I will add compost.
Currently the slopes are about 45* and the gardens are 3m X 3m. I would appreciate any advise on how I could easily turn this sloped garden into a functional space.
Additionally, above the one garden is a third space where a small fir tree once stood. It blew over end of winter. Now there is a stump and a lot of weedy soil in its place. I'm hoping to plant around the stump and maybe use it for climbing plants. Or, would it be better to remove the stump and roots? I was hoping to just let them naturally return to earth and feed the soil.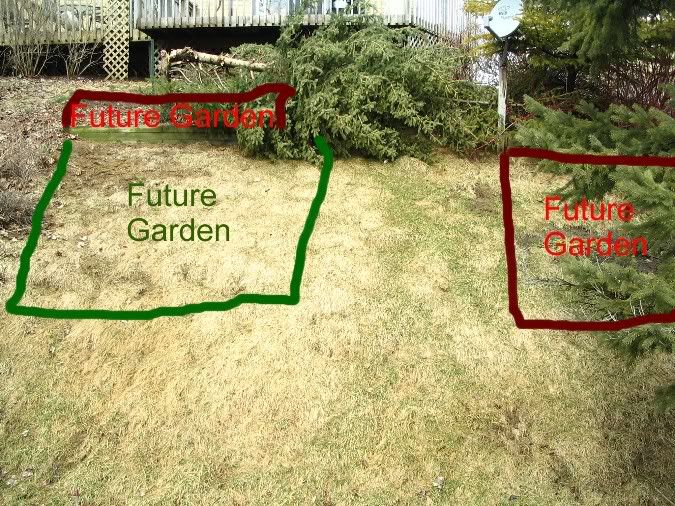 (Here's the yard in February. The future gardens are now tilled. The one on the right already has some herbs, hidden behind the tree.)
by Wrennie on June 04, 2006 11:27 PM
Here's my slope and terrace technique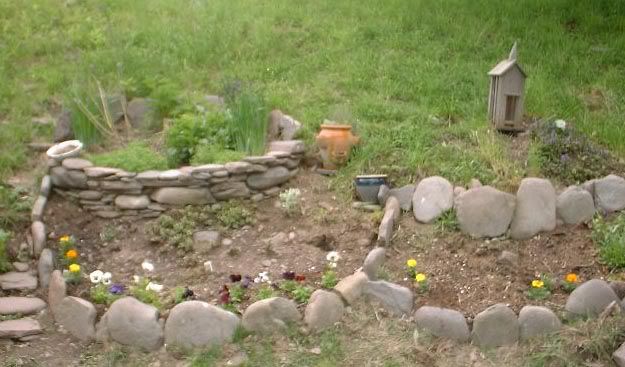 I'll have to get a picture of my veggie garden.
Its at the base of the slope. I used 3 cinderblocks spaced and boards to hold back the soil and keep it at a good depth.I didnt have the cinderblocks last year and just planted on the slope. I figured the grass and weeds held on fine why not a zuccini & tomato? It worked, but I'd like to do carrots again some time so I wanted depth.
* * * *



Summer Camp '07, July 14th weekend, won't you join us?

summer camp thread 1,
2,
3,
4
by tkhooper on June 04, 2006 11:49 PM
My slope is all clay and I'm using sticks and branches as my "fence" to keep what little soil I have in place. The problem being that they have to be replaced every year because the decompose. Some day I hope to have a yard that is flat but not yet.
* * * *


by Wrennie on June 06, 2006 02:43 AM
heres my veggie garden. up above it is leaves pine needles and bark chunks. It keeps the grass and field mint etc down so I dont have to sit back there all summer weeding.

this is immediately to the left of the rock border picture
* * * *



Summer Camp '07, July 14th weekend, won't you join us?

summer camp thread 1,
2,
3,
4
Search The Garden Helper: