Frogs in potted plants
Gardening Reference » Gardening in 2006
by Tonya on August 30, 2006 08:56 AM
Does anyone have any suggestions for getting frogs to stop burrowing in my potted plants outside?

I love my little froggy friends and want them to stay around, but they are causing problems for my large aloe and almost uprooted my cactus from angelblossom

Help!
* * * *


Bote and Babe's World
by kennyso on August 30, 2006 09:20 AM
I can think of a way to stop them from returning but don't know how to make them stop burrowing...I've never had frogs in m plants before! Can't imagine the surprise when you go to repot! Maybe try putting a layer of small pebbles or put bark or some mulch on the surface, don't think frogs like to have their skin touch rough material
* * * *


Blessed are the meek, for they shall possess the earth
My Website
My Blog
by Tonya on August 31, 2006 03:42 AM
I'll try the pebbles, they just dig under the bark/mulch. And, yeah! They DO make for a creepy repotting experience!

They jump out and squeek at you for disturbing them.
Anyone else have an over-abundance of frogs/toads this year?? They are EVERYWHERE here...

* * * *


Bote and Babe's World
by TulsaRose on August 31, 2006 06:30 AM
Tonya, I finally gave up and quit relocating Thomas Toad. He took over this container early in the spring and is there almost every day. He doesn't pay any more attention to me when I pet him than my dog.
I posted this before as a Toad Lily. lol!
* * * *
Rosie z7a


by Tonya on August 31, 2006 10:19 AM
Rosie, I wouldn't mind if they would just sit in the pot, but they burrow down and dig out the roots of my plants. My aloe is leaning and I'm getting tired of fixing it everyday.....



That is one massive toad! Here is one of mine after I booted him out of my aloe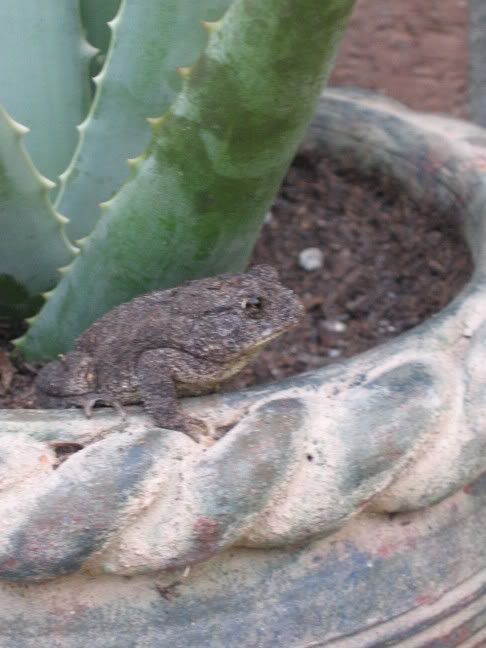 * * * *


Bote and Babe's World
Similar discussions:
Search The Garden Helper: