cornus kousa from seed?
Gardening Reference » Gardening in 2006
by gailo on September 16, 2006 11:56 PM
I have 2 cornus kousa dogwoods which bear fruit every year at this time.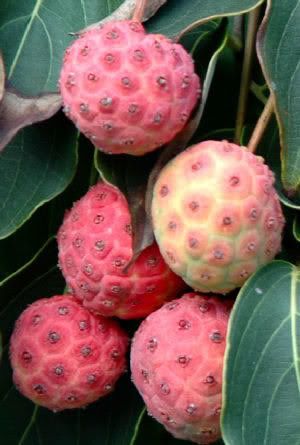 And the squirrels come and eat the fruit. I have really never paid much attention before, but I noticed seeds in the fruit left behind the squirrels.
So I am wondering if I can grow this tree from the seeds? Anyone out there ever tried this?
* * * *
gailo
by kennyso on September 17, 2006 03:50 AM
Just a word of caution, I'd wear gloves before I touch those bits because sometime squrriels have rabies and what not and if you get their spit into your body thru a cut on your hands, ouch, can't bear to think of all those shots! This is an except from this site:
http://www.pfaf.org/database/plants.php?Cornus+kousa
Seed - best sown as soon as it is ripe in a cold frame or in an outdoors seedbed if there is sufficient seed[80, 113]. The seed must be separated from the fruit flesh since this contains germination inhibitors[80, 164]. Stored seed should be cold stratified for 3 - 4 months and sown as early as possible in the year[164]. Scarification may also help as may a period of warm stratification before the cold stratification[80, 164]. Germination, especially of stored seed, can be very slow, taking 18 months or more[164]. Prick out the seedlings of cold-frame sown seeds into individual pots as soon as they are large enough to handle and grow the plants on for their first winter in a greenhouse, planting out in the spring after the last expected frosts. Cuttings of half-ripe side shoots, July/August in a frame[188]. Cuttings of mature wood of the current year's growth, taken with a heel if possible, autumn in a cold frame. High percentage[78]. Layering of new growth in June/July. Takes 9 months[78].
* * * *


Blessed are the meek, for they shall possess the earth
My Website
My Blog
Similar discussions:
Search The Garden Helper: