First Watermelon
Gardening Reference » Gardening in 2006
by comfrey on August 05, 2006 08:17 AM
Here is my first watermelon for the season, This is a sugarbaby watermelon...and yes it was very good!!!
* * * *


by johnCT on August 05, 2006 08:32 AM
My mouth is watering!

* * * *
John - Zone 6

by badplanter on August 05, 2006 03:25 PM
wow!! congrats!! i lllooovveee watermelon!
* * * *




"I don't want no more of army life, gee mom, I wanna go, but they won't let me go, gee mom, I wanna go home!"
My PB!
by TulsaRose on August 05, 2006 11:43 PM
Hmmmm...I just noticed you are in Arkansas, comfrey. Maybe I need to come over one night and raid your Watermelon patch.
That's a real beauty and I bet it had wonderful flavor.
As a teenager, I ONCE was talked into participating in a raid on a farmers watermelon patch one night. I didn't know these kids had been doing this on a regular basis and the farmer was lying in wait for us. When he stood up and yelled, everyone scattered like a covey of quail and I cleared a 3-strand barbed wire fence like a hurdles runner. Then I heard the shotgun blast and I know I set a worlds record doing the hundred yard dash down that old, dark and dusty road. Ran right past our car and kept on running toward town. lol! Only two of the boys got hit in the butt and they were miserable. The farmer was using shells loaded with rock salt and I guess it really burns and hurts. I decided that night I would never make a good thief!!!
Have you seen the series of hand-carved melons? Here is one shot I saved...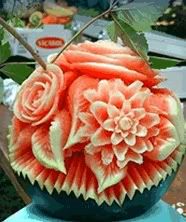 * * * *
Rosie z7a


by ChristinaC on August 06, 2006 12:46 AM
Yummy, yummy in my tummy!
* * * *


by comfrey on August 06, 2006 04:06 PM
Oh wow Rosie that hand-carved melon is wonderful!!! And I loved the watermelon story!!! My dad lives between Tulsa & OK city.
Tonight we had our first fully ripe cantaloupe and I was in such a rush to cut it and eat it....I didn't even get a picture

But I can tell you was pure heaven...just like you want one to taste

It was sweet and juicy, I didn't realize how sweet it really was until I put my hand up to mouth and it was sticky
YES IT WAS VERY GOOD!!!!!!!!!

* * * *


by Triss on August 06, 2006 04:15 PM
Good looking melon, beautiful carving, and a GREAT story! I think that would stop me from stealing as well. OWIE!
* * * *


We are all under the same stars... therefore we are never far apart.
by TulsaRose on August 06, 2006 11:38 PM
Comfrey, next time you head this way to visit your dad, just drop off a couple of melons and cantaloupe at my house. I'll stand out by the turnpike gate and wave you down. lol!
I love the artwork involved in carving the melons, gourds, etc. I did a Google Images search for
Fruit Carvings
if y'all want to look at some fantastic and clever pictures. I love the Owl Melon.

* * * *
Rosie z7a


Similar discussions:
Search The Garden Helper: