A few pictures of my garden...
Gardening Reference » Gardening in 2006
by Powderhunter on August 04, 2006 05:15 PM
Hey all,
Well here are a few updated pictures. The tomatoes are coming off by the bucketfull now. The pumpkin plants have taken over, and I've got two monsters hiding in the patch. Not too shabby of a cucumber either, eh?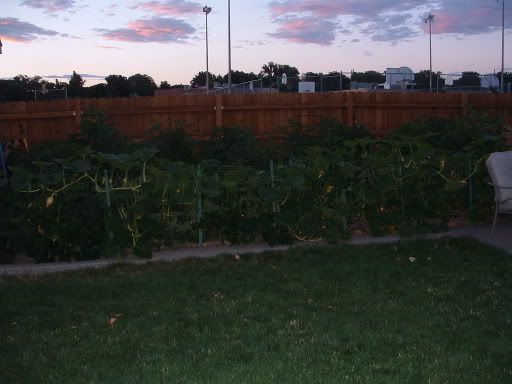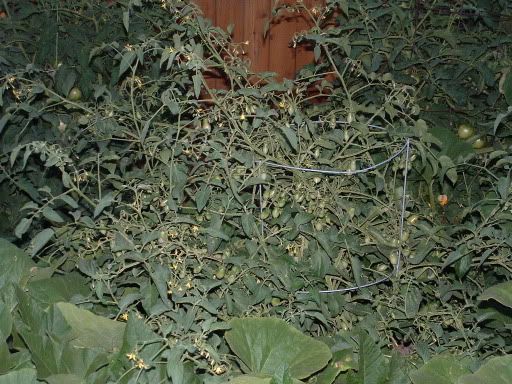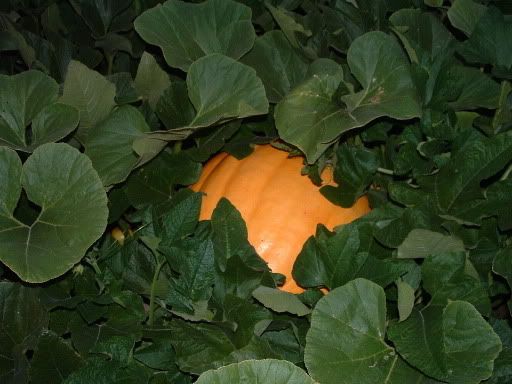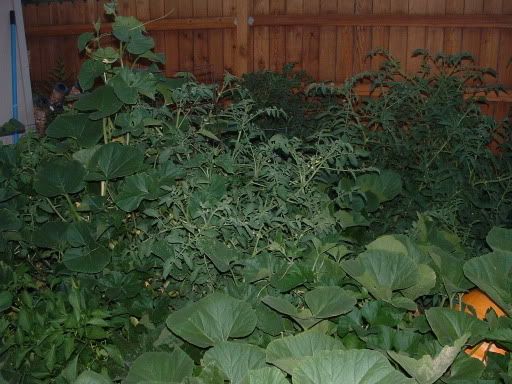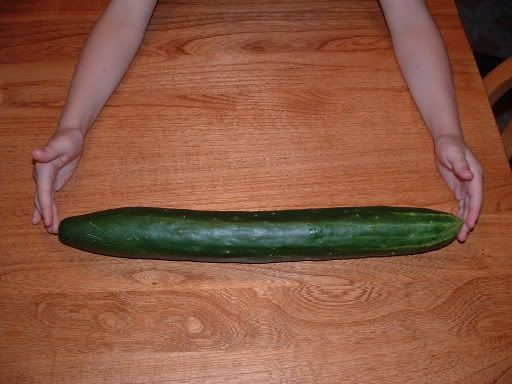 by Longy on August 05, 2006 12:42 AM
I seem to recall a query about your pumpkins taking over the world. Looks like they may have found a part of the world they like. That's still a great looking vegie patch. Well done. Watch out for those monsters though. They're often just a clever ruse to disguise other monsters you never knew existed....
* * * *

The secret is the soil.
by LandOfOz on August 05, 2006 02:11 AM
What beautiful pumpkins! Hopefully all those pumpkins leaves are helping keep your weed population low! You're garden looks fabulous and healthy.
* * * *

Sarah - Zone 5b/6
by johnCT on August 05, 2006 02:44 AM
quote:

---

Originally posted by Powderhunter:
Not too shabby of a cucumber either, eh?

---
Not too shabby at all! I gotta show that pic to the wife.

* * * *
John - Zone 6
by comfrey on August 05, 2006 02:45 AM
Very nice veggie patch!!! And that is a nice pumpkin!!!
* * * *


by Woodland Garden on August 05, 2006 05:37 AM
Hey nice garden. How much do you think the pumpkin weighs?

One thing I can never understand about pumpkins. I see pictures of other peoples pumpkin vines as a nice dark green. Mine are always a pale light green and the older ones quickly turn yellow. This despite my efforts to really 'beef' up the soil for them. I have no problem getting BIG pumpkins but it is odd.
by Rosepetal on August 05, 2006 12:26 PM
Not too shabby you say, I say WOW!!!


* * * *

For this "New Year" help me to be kinder and more loving to all around me, I pray.
by Powderhunter on August 05, 2006 04:47 PM
Thank you so much for the compliments...last year was a disaster, so it's nice that this year is going so well.
Regarding the pumpkins, I have no clue how much they weigh, but they keep on growing and growing, it's just crazy...TWO pumpkins that big, wow. I'll post some more pictures of them soon. Thanks again.

by patches1414 on August 05, 2006 07:19 PM
Beautiful graden and some awesome vegetables!

It looks like your all ready for Halloween with that pumpkin!
It's beautiful!

Everything looks SO healthy and green! Good job!

* * * *


"Lord, I love you and I need you, come into my heart, and bless me, my family, my home, and my friends, in Jesus' name. Amen!"
by peppereater on August 06, 2006 04:06 AM
Only one thing to say about your pics...WOW!

* * * *

Dave
Even my growlights are getting restless!
by Bestofour on August 06, 2006 06:06 AM
How long will that pumpkin keep in this heat? Your color is beautiful.
* * * *


http://www.picturetrail.com/bestofour
by tkhooper on August 06, 2006 06:14 AM
I've never seen that many tomatoes on a plant before. I see why you said they went crazy. Have a great harvest.
* * * *


by Triss on August 06, 2006 06:33 AM
Beautiful garden! You are going to have a wonderful harvest with it all looking so good!
* * * *


We are all under the same stars... therefore we are never far apart.
Search The Garden Helper: