Strawberry Leaves Question?
Gardening Reference » Gardening in 2006
by Firstyeargardener2006 on May 12, 2006 04:27 PM
Does any one know how strawberries leaves are suppose to look once they have several leaves on them?

In other words are they suppose to start falling to the soil or stand up high?
Some on here say they are runners, but how do they look once they start

?

I am asking this because I went out to the garden this morning and they were straight up I got home from work and they look like they either need water or they are trying to fall over on purpose

.

We had so much rain and I did not want to be over watering them so I skipped a few days, but I put my hand in the soil and it is still wet usually it's dry not a whole lot, but enough so that I know to water.
I went ahead and watered them, but I was looking for something to make sure I am doing it right pic, etc... Can't find any at an early stage

.
If any one can help with advice please do

.
I only have one plant

.
Thank you,
Nicky
* * * *
http://s80.photobucket.com/albums/j184/ladyk24/
I sit in my vegetable garden so that I can see them grow.
by Wrennie on May 14, 2006 02:24 AM
heres pictures
http://images.google.com/images?svnum=10&hl=en&lr=&q=strawberry+plant
* * * *



Summer Camp '07, July 14th weekend, won't you join us?

summer camp thread 1,
2,
3,
4
by Firstyeargardener2006 on May 14, 2006 04:51 PM
Thank you Wrennie,
I have been going nuts looking for a web page I stop looking and started looking for books.
Do you know any good garden books? I have one, but it does not have all the veggies that I am growing. I need a good book with everything so when I'm not sure I can hunt for it that wayI am not fighting

with the web.
Again
Thank you,
Nicky
* * * *
http://s80.photobucket.com/albums/j184/ladyk24/
I sit in my vegetable garden so that I can see them grow.
by johnCT on May 16, 2006 12:35 AM
Here's a picture of my strawberry patch. Some are standing straight up and others are close to the ground.
* * * *
John - Zone 6
by Wrennie on May 16, 2006 01:17 AM
Hmm good garden books for veggies....
I have:
Square Foot Gardening by Mel Bartholomew
and Rodales All-New Encyclopedia of Organic Gardening
Even if you dont grow organically or use the square foot method they are both good sources of Info.
* * * *



Summer Camp '07, July 14th weekend, won't you join us?

summer camp thread 1,
2,
3,
4
by Patty S on May 20, 2006 09:04 PM
Nicky, I've been raising Everbearing Strawberries for longer then I can remember, but I do believe that all Strawberry plants have the same characteristics & care requirements. I'd like to share with you, what I've noticed about them over the years.
You asked if the leaves are supposed to "start falling to the soil or stand up high"... I guess the best answer is that just like people, some are on short stems & some are on tall stems! Also, some days my plants will stand up tall, & other days they're just sitting there... & I don't know why! (Maybe they have "moods" too!)

Of course, the real short stemmed leaves have no choice but to be happy at "ground level".
About the runners... runners DON'T come from the leaves, nor do the leaves turn into runners.
Here are a few photos of Strawberry runners:
Mind you, runners come in ALL lengths. Some take off & go half way across the garden (like these 2 seem to intend) & some are very short, & stay close to the plant (I don't know why that is, either... probably more of the same thing, like short & tall people, for all I know!)

Notice that the runners look nearly identical to the stems... but, instead of forming leaves, the "stem" will produce little buds which will become the "crown" of the new plant.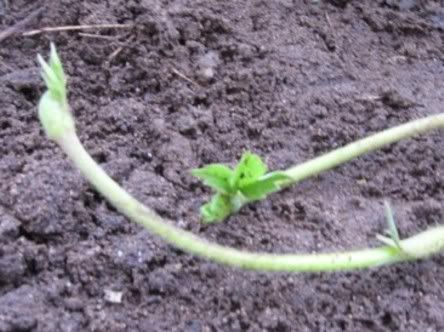 Here, you can see the beginning leaves of new plants forming from the crowns off the runners. Many runners, regardless of length, will only produce one crown for a new plant. Likewise, many runners, regardless of length, will produce several crowns along the stem (as seen on the runner in the foreground). I have had runners with as many as 6 crowns on them.
New Strawberry plants will continue to feed from the mother plant, through the runner, until it finds a place suitable to send roots down of its own. Some crowns will start to form roots even without being near soil (As in runners that hang down from a planter), but will eventually die off if not removed & allowed to root into soil somewhere. They will, however, continue to feed from the host plant as long as a healthy runner remains attached.
When planting a new Strawberry plant, it is very important not to cover the crown with soil. The crown sits on top of the dirt & sends roots downward.
Covering the crown will smother & kill the plant.
Your Strawberry plant may not send a runner out until later in the season, or perhaps not at all, this year. The runner-producing plant in the photos above is using it's energy to produce a runner (I don't know what determines that), so it probably will not produce any berries this year... unless I snip those runners off & allow it to start over again.
About watering Strawberries.... Good drainage & LOTS of water are essential for healthy plants & good production. While the fruit is forming, draught conditions may cause the fruit to malform (which makes for some pretty bizarre Strawberry shapes, but isn't good for the plant, or the flavor & texture of the fruit.) The only time Strawberries can be OVERwatered is when they
sit
in water for a long perios of time. They do like (and use) lots of water, but they don't appreciate soggy feet!
It has been my experience that picking off the first flowers of the season will force energy back into the plant & cause a better berry yield throughout the growing season. (Normally, where I live, when the plant first produces flowers it's too cool outside for the bugs to be present for pollination anyway, so the plant uses energy for nothing but a flower... which dies off without making a berry.)
It's hard to "waste" a flower after waiting all winter for something to bloom, but you (and your plant) will be happier with the results, later!
The plants in the photo that John posted are, I believe, "June bearers", & that's why our plants may look a bit different. (My plants are also much closer together, as it's an old, established bed, with many 1st, 2nd & 3rd year old plants...
desperately in need of thinning, to remove the old, non-productive ones.)
June bearers have larger, more stately-looking leaves then Ever bearers, and also produce larger berries.
Here is more information (& tips) about
my Strawberries
, if you care to take a look. I'm also around here pretty often, so I'll check back to see if you have more questions that I might be able to help you with.
Good luck with your berries this year, & happy gardening!
* * * *


by Bill on May 21, 2006 01:24 AM
Strawberries
* * * *

by Firstyeargardener2006 on May 21, 2006 04:01 AM
Thank you
I keep looking at that plant because I have had it for about 3 months now and it hasn't even gotten any flowers

strange little thing. Out of all my other plants watermelon, peppers, and tomatoe thats the only one that seems to have a problem getting flowers. So I bought another one the other day to see if maybe it is just were I planted it. So far that one has not gotten any either, but I have only had that (new one) for about 2 weeks at the most. Lets see what happens!
Mines are everbearing strawberries also Patty.
John and Patty I love you pic of your strawberries plant. I wish mine could at least get flowers or grow taller wider anything

.
Again thank you very much all of you this is very helpful. I will print this and keep it with the rest of my gardening things.
Thank you,
Nicky
* * * *
http://s80.photobucket.com/albums/j184/ladyk24/
I sit in my vegetable garden so that I can see them grow.
by Patty S on May 21, 2006 04:25 AM
Nicky, have you ever heard the saying, "a watched pot never boils"?
Keep the litttle guys watered, but pretend that you don't care what they do, & they'll probably take right off & act like Strawberry plants! (It almost sounds like we're talking about teenagers, doesn't it?!)

Maybe your single Strawberry plant was just lonely... I'm happy to hear that you found a friend for her! Where do you have them planted? Are they in full sun? I don't know where you are in Texas, but I understand that much of that region has had some pretty extreme weather recently. That could possibly have something to do with it, but remember too, that the plants are using energy to get their root systems established. The flowers will be next!

* * * *


by Firstyeargardener2006 on May 21, 2006 04:42 AM
I,m from San Antonio, Texas zone 9b.
I have one planted in a bed and the other one I had to,put it in a containter. This is my first year gardening and boy did I make a lot of mistakes. I can not even begin to tell you how many so far I lost count
. And yes they are like teenagers. I do not have kids, but I have younger brothers and sisters so I know a little bit about that not to much since how they do not live with me.
I could not plant them together since how the bed one was planted first. I wish I had the space to put the other one there, but I can't.
I will add my pic's of the one I did not take any of the new one yet.
Thank you,
Nicky
* * * *
http://s80.photobucket.com/albums/j184/ladyk24/
I sit in my vegetable garden so that I can see them grow.
by Firstyeargardener2006 on May 21, 2006 04:44 AM
* * * *
http://s80.photobucket.com/albums/j184/ladyk24/
I sit in my vegetable garden so that I can see them grow.
by Firstyeargardener2006 on May 21, 2006 04:45 AM
by Patty S on May 21, 2006 05:57 AM
She looks pretty happy to me, Nicky!

I think she'll be fine!
Is that your Tomato plant, climbing on that pretty trellis? (Looks great!) My Tomatoes aren't more than a foot tall yet, but they do catch up... as will your Strawberries.
If you looked at
my Strawberry posts
, you may have noticed that my Everbearing Strawberries are pretty close together, so I don't think you have to worry about them crowding each other out if you plant them next to each other. I don't know why the directions always say to put them 12" apart... maybe it's so there is plenty of space for the runners to go.

Mine seem to be pretty happy, snuggled up together! (Thanks for the pics!)
* * * *


by Firstyeargardener2006 on May 21, 2006 11:07 AM
Yeah, Patty that is one of my tomatoe plants the patio one had died at least I thought it did so I put in another blue container and planted peppers on top well remind me next year not to do something stupied like that please

. I did not know they could grow back. So right now I have 4 pepper plants and 1 tomatoe plant in there. I am wating for the pepper plants to get bigger and stronger so that I can move them hopefully. Thank you very muc for all this info I am so happy that I can ask someone about this. You see my grandmother use to grow stuff she grow up on a farm. She passed away a few years back so I have no one to ask questions about gardening. My mom thinks I am crazy she calls me country girl, but I love growing things at least trying to
. So hopefully next year my plan is to have 3 beds= 1 with tomatoes, 1 herbs, and the last one peppers I am going to do what you did have strawberries containers off the ground and maybe make some wheel barrels along side the 3 beds. I can grow I lot of stuff from seeds,but runners well now that I have your page to print out I will be looking into that so that I can have strawberries plants without having to buy them every year. Thank you very much for your help.
Lets see what happens with these babies.
I also can't wait tell next year sometime this year I will be digging as soon as I get time. I can't wait. Boy do I love gardening .

Again thank you,
Nicky
* * * *
http://s80.photobucket.com/albums/j184/ladyk24/
I sit in my vegetable garden so that I can see them grow.
by Patty S on May 25, 2006 09:18 PM
Nicky, I hate to tell you that your Mom is wrong
...but your mom is WRONG; you're NOT crazy!!
(& there's nothing wrong with being a country girl! She's going to love it when she starts getting groceries from you, out of your garden!

Your garden plans for next year sound pretty darned good, & you sure came to the right place to ask questions (& hopefully, get good answers), since your Grandma isn't around to ask, anymore. (The oldtimers had some pretty unique ways of doing things, that we're still finding out about!) The folks here are so darned friendly & eager to help, that they make it easy to ask away! We were all new at gardening once ourselves, & many of us had to learn everything by doing it wrong first, because we didn't have a place like this to come & pick people's brains for info!

I've done veggie gardens for as long as I can remember, but I didn't get interested in flower gardens until late last year! I've learned so much here... but the more I learn, the more I realize how much I don't know yet! (Just stick with us & you'll be sharing your information with us before you know it, & we'll be asking YOU questions!)

You're going to do just fine with the Strawberry runners. I think they're easier than starting things from seed, because you don't need a magnifying glass to look for the plants!
I enjoy chatting with you, Nicki!

I'm sorry I've been MIA here for a few days... I couldn't remember where I'd left this topic, because there are a few other ones about Stawberries too, & I got side tracked! I have this thread bookmarked now, so I can get back here & check to see how you're doing! (Don't be afraid to send me a PM & rattle my cage if I disappear again!)

* * * *


Similar discussions:
Search The Garden Helper: