Strawberry
Gardening Reference » Gardening in 2006
by Ivy9 on April 14, 2006 01:20 AM
Hi
I got 2 strawberry plants from the local nursery

But then I googled and read that they r not going to produce this yr???

They are of Tristar variety and right now they are in small cups. I want to plant them in containers. How big sould they be?
by johnCT on April 14, 2006 01:33 AM
They make special strawberry pots that you can put a bunch in. They look like this...
Is the variety you bought a June Bearing or Everbearing variety?
* * * *
John - Zone 6
by Ivy9 on April 14, 2006 01:55 AM
It is everbearing varity. Can I use a regular pot?
by SassyManal on April 14, 2006 02:59 AM
I put mine is a regular pot with the holes on the bottom. They are looking good and the strawberry's started getting red! Here's a pic..it's Strawberry "Cardinal".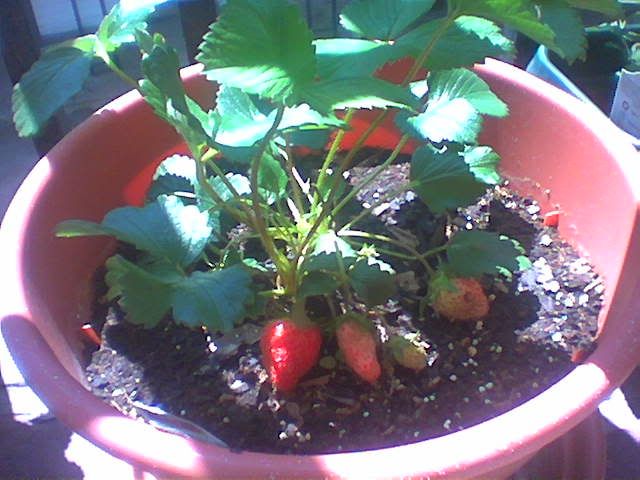 If you have any other questions just ask.

by Ivy9 on April 14, 2006 03:09 AM
Coooool! I can do that I think

Is that not early for strawberries? My small plant s have flowers already. Do you think I should remove them? I live in Chicago so it is getting warmer just now...
by SassyManal on April 14, 2006 03:13 AM
Don't remove the flowers. Those are small strawberry's growing. Each one grows differently so you'll have one gib..one small..like in the pic.

by Ivy9 on April 14, 2006 03:26 AM
oooh I cannot wait to plant them in big pots

Thanks SassyManal ! You made my day! Now I go home dreaming abt my strawberries ( 1 hr drive

by DeepCreekLake on April 14, 2006 07:30 AM
Actually for Tristars its recommended you pinch off the flowers until June, and pinch off the runners the first year. This will focus on growth of the plant and will produce better fruit during the summer until fall. I just plnated Tristars myself!
by Amigatec on April 14, 2006 07:38 AM
It that also true for Ozark Beauty's?
I have about 10 of those planted.
* * * *


One OS to rule them, one OS to find them:
One OS to bring them all and in the darkness bind them
In the Land of Redmond where the shadows lie.
by MissJamie on April 15, 2006 09:39 AM
I bought a strawberry plant at walmart and this is my first year growing them! I can't wait to eat my first berries from them!! I noticed yesterday that they'd produced a flower. should I go ahead and pinch it off or just leave it? the plant is pretty small.
* * * *

*~*Last night I played a blank tape at full blast. The mime next door went nuts.
*~*
http://www.imagestation.com/album/?id=2125497034
by obywan59 on April 15, 2006 03:17 PM
Jamie, they recommend pinching them off for the first year, as this puts more energy into the growth of the plant making future harvests greater.
* * * *

Terry
May the force be with you
by MissJamie on April 15, 2006 07:55 PM
oh ok thanks terry! so that means I won't be able to get any strawberries this year huh? man I was hoping I would



* * * *

*~*Last night I played a blank tape at full blast. The mime next door went nuts.
*~*
http://www.imagestation.com/album/?id=2125497034
by SpringFever on April 15, 2006 08:22 PM
http://www.thegardenhelper.com/strawberries.html
I was just reading this. hope it helps
* * * *


Tonight I am having friends for dinner... Hanibal Lector
My Album
by peppereater on April 15, 2006 10:18 PM
MissJamie, I'm afraid I'd just let them fruit and enjoy them! Since you're gardening in containers, it's not like you're trying to establish a strawberry patch...
* * * *

Dave
Even my growlights are getting restless!
by SassyManal on April 15, 2006 11:35 PM
I am leaving for vacation next month (for 3 months) so i'm thinking about letting my sister pinch the flowers while i am gone. What do you ladies think?
by DeepCreekLake on April 16, 2006 08:51 AM
Pinch them off until June- if it is an everbearing-they should produce fruit this year into fall!
by Deborah L. on April 16, 2006 10:03 AM
Jamie, maybe leave one plant "unpinched" so you can have a couple of strawberries this year for fun? That's what I do.
* * * *


by Patty S on April 16, 2006 12:46 PM
I haven't googled the "Tristar" Strawberry, but I can't think of any reason why a Strawberry plant wouldn't produce in the first year...

...the "life span" of a Strawberry plant is only about 3 years! (The plant itself won't necessarily die off, but it will slow its production markedly after the 3rd year.) Terry is right... pick those first blossoms off, & that will force energy back into the plant & you should get a better yield.
Strawberry plants are a garden's version of rabbits! Picking those first flowers isn't going to make any difference (other than strengthening the plant), because most of those blossoms will fall off & NOT turn into berries, as there aren't many insects out yet anyway, to pollinate them.
The only reason a plant wouldn't produce berries in its "first year" would be because it's a brand new plant that has formed from a runner vine (sent out by the main plant), but that's not considered its first year. "First year" plants are ones that have set roots down... usually the year
after
they form on the runner.
* * * *


by DeepCreekLake on April 18, 2006 06:28 AM
Strawberrys do not need to be pollinized to set fruit- they set fruit and get pollinized afterwards. Basically the seeds of a strawberrys is what get produced when pollinized. That is why strawberry will fruit indoors, if you take them inside!
Similar discussions:
Search The Garden Helper: