artemesia silver mound
Gardening Reference » Gardening in 2006
by melcon6 on September 30, 2006 08:41 PM
I love silver mound. I wanted it for so long, but when I was married to my ex he said, "No way, it never keeps that nice mounding shape" so for years I didn't have it.

When we split up it was the first thing I got!

My solution to the shape issue is when it gets big and floppy in mid-summer, I cut it back almost to the ground and it gives me a great shape again for fall!

I took this picture yesterday!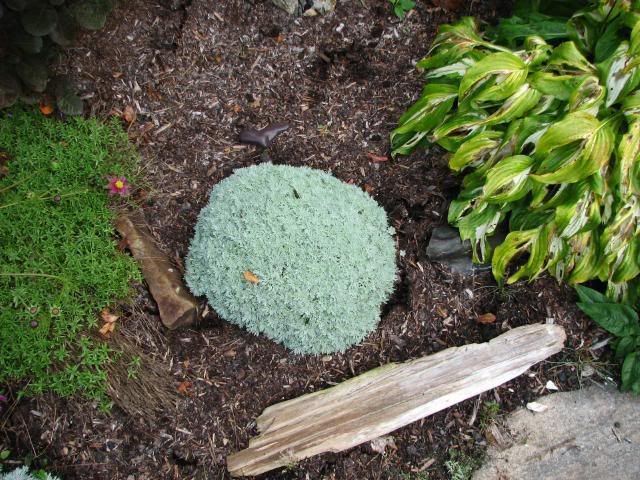 * * * *

HAPPY BIRTHDAY CINDY!!!!!!!
by netty on September 30, 2006 08:52 PM
That's exactly what I do to mine Mel. As soon as I see the new growth starting I cut it back. I love it too...so soft!
* * * *


by melcon6 on September 30, 2006 08:57 PM
Yes, it is so soft! I'm constantly patting it and rubbing it!



* * * *

HAPPY BIRTHDAY CINDY!!!!!!!
by TulsaRose on October 01, 2006 01:50 AM
Mel, that is so beautiful. My mom always had several patches of Silver Mound and it fascinated my kids to be able to "pet" it.

I think she divided hers every few years as it would begin to get ratty looking in the center.
* * * *
Rosie z7a


by Deborah L. on October 01, 2006 03:56 AM
Is it like lamb's ear?
* * * *


by tkhooper on October 01, 2006 04:27 AM
Is that a form of wormwood? I have some with that leave shape but it is much bigger and it's shape is very lanky.
* * * *


by melcon6 on October 01, 2006 07:19 AM
I wish I could properly describe the feeling of this Artemesia. It's so soft and moderately springy. When I rub the mound, I take the palm of my hand rounded against the top of the plant and lightly rub it back and forth. (Kind of as you would do to a little boy's head after they get their "summer cut".
) The plant springs right back to it's original shapely mound. It does tend to get tall and lanky, losing it's shape, in the summer. That's why Netty and I cut it back, to get a second new mound in the same garden year.
Tammy, I found all the scientific information on wikipedia.org (I can't post the link). It
is
what some call wormwood. The scientific name is Artemisia schmidtiana.
* * * *

HAPPY BIRTHDAY CINDY!!!!!!!
by Jiffymouse on October 01, 2006 10:34 PM
thanks for the scientific name mel, now i can go find out if it will grow in this heat!
Similar discussions:
Search The Garden Helper: