Peonies
Gardening Reference » Gardening in 2006
by ND farm girl on August 02, 2006 03:45 PM
I live on a farm that we bought 9 years ago and have just begun gardening,landscaping, etc., as my boys are now old enough to be outside playing and helping. I have a very large row of peonies that have been hiding in the shade of trees that have grown tall. I am going to dig them all up and move them out into the sun so I can enjoy them! Do I HAVE TO wait until fall or can I do this NOW! I get a little antsy in August when there is no more planting to do and I have so much I want to accomplish! :-) Since they are not flowering, can't I just cut them down short and move them to their new 'home'?

* * * *
PattyM

by comfrey on August 02, 2006 04:11 PM
You are right that fall is the best time, But I have planted nursey stock peonies in June before. So I would say if you really want to move them then go for it. You might want to read this about
peonies
before you start digging. Good Luck!
* * * *


by TulsaRose on August 02, 2006 11:30 PM
At the risk of sounding like a real Killjoy, I wouldn't move those Peonies until it's much, much cooler. Moving them from a shaded area to full sun at this time of year could be a major disaster. Plus cutting off the foliage now is robbing the plant of its ability to "feed" the tubers for next years growth and blooms.
Mine begin blooming the first week of May each year before the surrounding trees have fully leafed out so they get plenty of sun and appreciate the shade later in the season.
Just my personal opinion and you know what folks say about that.
* * * *
Rosie z7a


by ND farm girl on August 03, 2006 12:22 AM
Thanks....I'll be patient and wait to move them.

* * * *
PattyM

by tkhooper on August 03, 2006 12:31 AM
Also you might not get blooms for several years after a move. The peonies don't like having their roots disturbed. If you do move them remember you want a spot that is protected from wind so the blossoms don't shatter due to rain or wind. I really think that the trees are a great place for them and I wouldn't move them unless you have to.
* * * *


by ND farm girl on August 03, 2006 07:42 AM
I have to move them because I can't enjoy them where they are...nobody even knows I have them because they are overcrowded by big trees. My mom about fainted when I pointed them out to her the other day and I've lived here for 9 years!

Thanks everybody!

* * * *
PattyM

by dodge on August 03, 2006 12:55 PM
ND farm girl,
I am zone 5 or 6
My peonies are out in full sun, in wide open spaces and i had a photo on here this spring, and it was great.....
However when it gets a violent rain, it does bend over........pretty after about 4 years.
dodge ........glad you chose farm
* * * *

''''Those who live in the Lord Never See Each Other For The Last Time!''''
by patches1414 on August 03, 2006 06:52 PM
I know peonies prefer full sun, but I have mine planted where get the morning sun but are pretty much shaded from noon on and I don't have any trouble with them blooming.

I always wait until fall before I cut the foliage so it has a chance the store food for the winter. Also, I would not try to move them until it gets much cooler.

* * * *


"Lord, I love you and I need you, come into my heart, and bless me, my family, my home, and my friends, in Jesus' name. Amen!"
by TulsaRose on August 04, 2006 01:40 AM
Most of mine get full sun until about 2pm. The two that are in full sun all day get severely sunburned foliage by the end of June. I provide wire cages for support as the bloom stalks will fall over when the flowers are fully opened.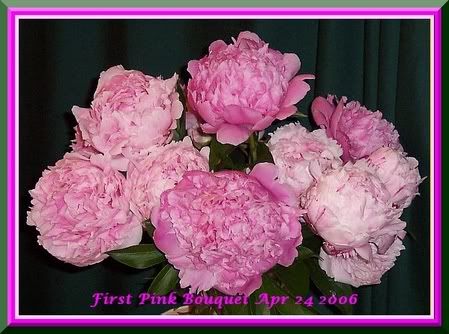 Can you tell I like pink? lol! There are four different types of Peonies in that bouquet. My one oddball Peony is also quite beautiful to me and the most fragrant of them all.
* * * *
Rosie z7a


Search The Garden Helper: