Full Sun Hanging Basket Flowers
Gardening Reference » Gardening in 2006
by Questbest on May 22, 2006 01:12 PM
Hi-Does anyone have any suggestion for southern exposure hanging flowers for baskets?My house has a light grey siding with white trim and a red front door.Any suggestions for a type of flower that will do well in this exposure and go well with these colours?I was thinking of hanging fuchias but not sure if they like full sun.I also like red,white and blue hues.Or are there any new ideas out there?

* * * *
Linda

by melcon6 on May 22, 2006 01:48 PM
A "standard" basket could be red geranium to complement the door with royal blue wave petunias and the white could be bacopa; all of these are heavy drinkers and would need to be watered at least daily in the heat of summer, sometimes twice a day.
verbena comes in red, white and blue, I've got it in a large stump driftwood piece out in the garden.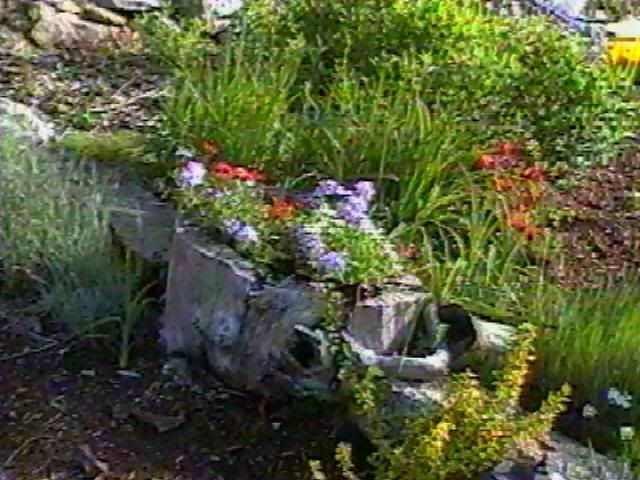 * * * *

HAPPY BIRTHDAY CINDY!!!!!!!
by joclyn on May 22, 2006 02:01 PM
calibrachoa 'minifamous white' or 'minifamous light blue'

the flower is similar to petunia and it blooms continuously through the summer.

the white variety will get 8-10 inches tall and will spread out about a foot.

the light blue actually has a light purple flower. it gets about 4 inches tall and will be kind of mounded and spreads out almost 2 feet - will look stunning in a hanging basket!

i've got mine in 12 inch planters that are sitting on my front steps.
by melcon6 on May 22, 2006 02:17 PM
Ooooooo, great idea , joclyn, I love the million bells, other colors are terra cotta, crackling fire, and tequila sunrise. I also saw some burgandy ones, don't know the name of them.
* * * *

HAPPY BIRTHDAY CINDY!!!!!!!
by joclyn on May 22, 2006 05:40 PM
hmm, that burgundy one sounds interesting!!
by Triss on May 22, 2006 06:23 PM
Linda, a good white tralining vine that I have had great success with is a potato vine. Pretty green vines and small white flowers. Would be a good companion plant to just about anything that stands upright.
* * * *


We are all under the same stars... therefore we are never far apart.
by RugbyHukr on May 23, 2006 02:04 AM
heliotrope is nice & smells like chocolate
* * * *

I love the sweet scents wafting in the breeze. I stop to admire the vibrant colors of all living things. And people think me odd. Then ODD I am!!!
http://community.webshots.com/user/flugnash
by Questbest on May 23, 2006 05:13 AM
Thanx guys-some great suggestions that I hadn't thought of-so I am off to some nurseries to see what I can find.This will be weird as I usually go for the pinks,corals,peaches.I need to keep in mind the grey siding of the house(that's just been put on) and white trim and new red door.I think it will be a nice change.Happy gardening and thanx for the help!

* * * *
Linda

by joclyn on May 23, 2006 06:15 AM
oh, i wasn't even thinking about vines...and here i've got a tri-color sweet potato in one of the planters that has the 'light blue' calibrachoa!

there are multiple varieties of the sweet potatoe vine...at the place i bought mine they had 5 different types...solid green, solid yellow, 2 variegated, tri-color. and they said there are even more varieties available.
Search The Garden Helper: