Full sun garden
Gardening Reference » Gardening in 2006
by murphyette on July 22, 2006 01:03 AM
Yeah, it's me again. I have a garden area in the back corner that gets FULL sun for at least 8hrs/day. I really want something back there that will bloom mid-summer for at least a good month. Any choices besides Black Eyed Susans? Right now I have alot of short term blooming things back there like Dianthus, Daisys, Coneflowers, Butterfly Bush... but right now it is so bare because everything has petered out, and the dang Japanese Beetles have all but destroyed my Salvia and Hollyhocks. Suggestions?

* * * *
Jody

by alankhart on July 22, 2006 06:41 AM
There aren't alot of perennials that bloom for a month or more. A few full sun plants that can are Moonbeam Coreopsis, Creme Brulee Coreopsis, tall Garden Phlox (get the mildew resistant ones like 'David' or 'Robert Poore') Dahlias, and Blanket Flower.
* * * *



by murphyette on July 22, 2006 09:46 AM
Yeah, I was checking out some Phlox, there are varieties that supposedly bloom all summer. I think I am going to try some Seedum, and maybe split some of my Coreopsis next sping (they are too little right now)

* * * *
Jody

by RugbyHukr on July 22, 2006 01:11 PM
perennial hibiscus, daylilies, mexican petunia, the taller salvias(russian sage, salvia nemorosa), yarrow
* * * *

I love the sweet scents wafting in the breeze. I stop to admire the vibrant colors of all living things. And people think me odd. Then ODD I am!!!
http://community.webshots.com/user/flugnash
by tashmoo on July 22, 2006 01:44 PM
check out yarrow 'terra cotta'. it's going on a full month for me and still going!
-mara
by cinta on July 22, 2006 02:46 PM
My Oriental lilies are going strong now. I did not see that you listed any bulbs. They would be great in that area. Plus they are easy to squeeze into little pockets between the other plants.
For low gowing I like the idea of some sedum there are some really pretty color. The blanket flowers that were suggested start blooming in June in my garden and bloom until Fall. You cannot beat them for color.
These are blooming now.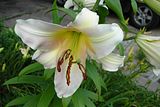 * * * *
http://www.flickr.com/photos/audwoman/
If you want the rainbow you have to put up with the rain!!
Search The Garden Helper: