Peonies bud?
Gardening Reference » Gardening in 2006
by tkhooper on April 18, 2006 09:27 PM
It's really to soon for my peonies to bloom and I know that but. Could this be a bud forming? I so hope it shows up.
* * * *


by obywan59 on April 18, 2006 09:34 PM
Yup, that's definately a flower bud! I haven't checked my herbaceous peonies yet, buy my tree peonies have some big buds on too!
* * * *

Terry
May the force be with you
by tkhooper on April 18, 2006 09:38 PM
wow I didn't expect to see any this year. I'm so pleased. Woohoo!!!
Thankyou for letting me know. I look forward to pictures of all of yours.
* * * *


by johnCT on April 18, 2006 09:58 PM
It sure looks like one. Peony buds are hard to miss.

* * * *
John - Zone 6

by tkhooper on April 18, 2006 10:59 PM
Woohoo I ran back out there to look again...and guess what!!!!!!!? There is a bud on one of the others too!!!!!!!
Ok, I'm a nut case. I freely admit it. But I wasn't expecting to see buds until next year or maybe even the year after. I've never grown peonies before and I couldn't be happier.
* * * *


by johnCT on April 18, 2006 11:20 PM
Good for you. Make sure to support them somehow.

* * * *
John - Zone 6
by morninglori on April 18, 2006 11:29 PM
Here is my peony baby. He is three years old this spring and doing mighty fine. (but he was pretty sad the first two years).
ps. this is my first stab at including a pic. Please let me know if it is too big. thanks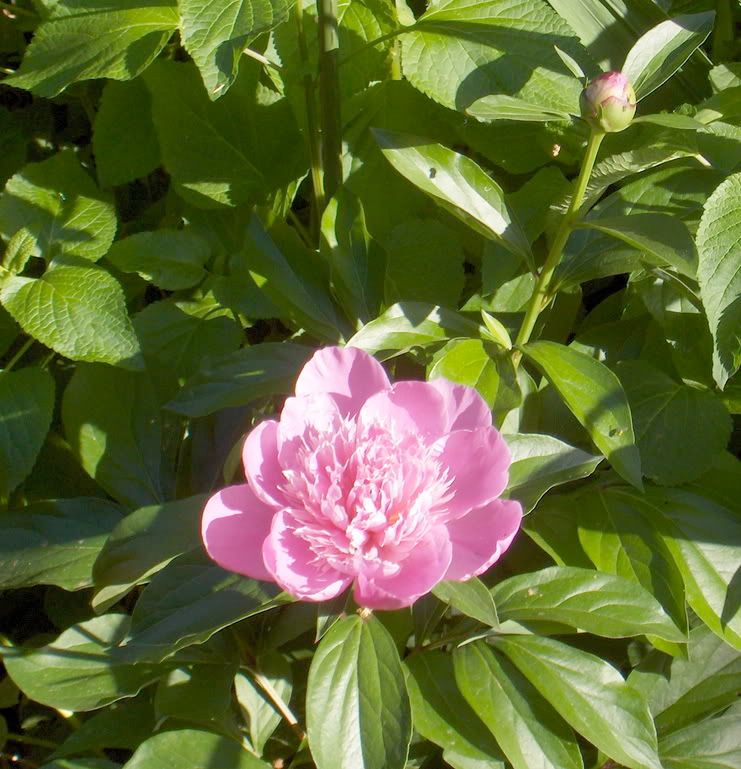 by morninglori on April 18, 2006 11:31 PM
I guess I just answered my own question. That picture is way too big. I'll try to reduce it or link to it next time. Sorry if it slowed your browser to a crawl. Mea Culpa.
by tkhooper on April 18, 2006 11:49 PM
great looking blooms morningglori. Do you have a picture of the entire plant? Mine are still very small but I'm looking forward to them getting bigger.
* * * *


by joclyn on April 19, 2006 08:38 AM
tk, be sure and post some pics when they bloom!

morningglori, wow! what a beauty!!!

i transplanted a peony from a neighbor's yard last year (they were moving). wasn't sure if it would even survive the move - we had a mild winter and it's sending up shoots from all the pieces of tuber (it broke when i dug it up), yay!

should i expect it to not bloom this year?

i planted it in a spot where it'll get plenty of sun. where it was before was pretty shaded, so it never got too big or had too many blooms.

anything special that needs to be done? like fertilizer?
by tkhooper on April 19, 2006 09:02 AM
from what I understand from research on the internet they take about 3 years to accustom themselves to being moved. But then they live for like 75 years or so.
* * * *


by Ivy9 on April 20, 2006 02:20 AM
Hi tk, where did you plant your peony? I have part shad eon the north and Full sun in the fron. The fullsun area gets a lot of hot afternoon sun so I am hesitating whether it will take the heat ther


by tkhooper on April 20, 2006 07:07 AM
I planted mine in dappled shade under a maple tree. That area is usually about 10 degrees cooler than out in direct sun.
Do you recall what type of peonies you bought? Some bloom in spring and are less heat hardy than those that are suppose to bloom in summer. I don't remember all the details that go with that information but it was on one of the government websites. Clemson maybe?
* * * *


by Ivy9 on April 21, 2006 01:26 AM
Hi tk,
Mine is pink chinese double peony supposed to bloom May to June. So I guess I should plant it in part shade right? Can I keep it in the same container or in the ground is better
by tkhooper on April 21, 2006 05:06 AM
Well the directions I read said to find the place where you are going to leave it forever and ever and plant it their. Your area is probably much cooler than mine down in Virginia so you may be safe putting it in a sunnier location but I'm not sure. I'm in zone 7a I don't know what zone you are in. Here is the website that I keep referring to:
http://hgic.clemson.edu/factsheets/HGIC1170.htm
* * * *


by comfrey on April 21, 2006 12:58 PM
My peonies are getting ready to bloom, they are only four years old, last year (3rd yr) they had quite a few blooms, and the second year each one had one or two small blooms...I'll post a picture of mine tommarrow, the one may be blooming then. Mine are shaded half of the day and full sun the other half, I forget to water them, so most of the moisture they get is from rain fall.
* * * *


by comfrey on April 22, 2006 06:00 AM
Here are mine..not blooming yet.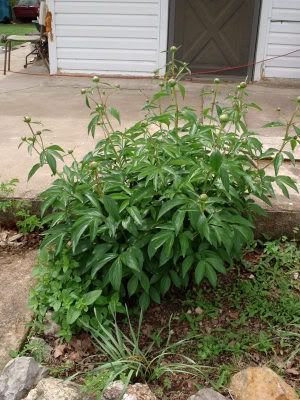 * * * *


by tkhooper on April 22, 2006 11:33 PM
wow you are going to have a mass of blooms real soon aren't you.
* * * *


by comfrey on April 23, 2006 01:21 PM
I hope so Tammy..as long as it doesn't rain real hard when they bloom, this should be the best year so far for them. I love peonies and the scent is just heavenly.
* * * *


by Rosepetal on April 25, 2006 11:46 AM
Your pictures are beautiful.
Often wished I'd live in a climate zone where plants and shrubs do well outside. I do have some but not only do we have killer frosts like this morning, but the wind get whatever is left after that.
But I try anyway!!!!!!
* * * *

For this "New Year" help me to be kinder and more loving to all around me, I pray.
by comfrey on May 03, 2006 02:33 PM
Mine are still not in full bloom, but here are a couple of blooms: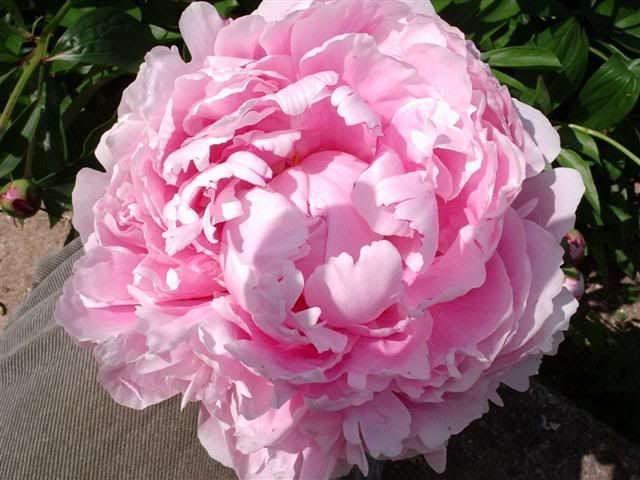 * * * *


by Rosepetal on May 03, 2006 02:43 PM
WOW!!!!!
I can smell them all the way up here. Beautiful, beautiful, love your peonies.
* * * *

For this "New Year" help me to be kinder and more loving to all around me, I pray.
by RosyRuthie on May 04, 2006 03:57 AM
those are some BEAUTIFUL peonies! My mom has 2 peonies that used to beong to her grandmother. each bush puts out literally 40-50 blooms. theyve been in the same pace since i've been born and as im pushing 30 thats not too bad. my only regrets of my climate is that peonies do poorly. seeing your pictures was like a taste of home! thanks!
* * * *
Please remember to hug your kids everyday!

by Budman on May 04, 2006 06:16 AM
That was a great site tkhooper! Appreciate that very much. I have four Herbaceous Peonies that were given to me last year and I just heeled them in some sand for the winter until I could get them in the ground. I also have to transplant four more from my Parents yard as they are getting too much shade and they are moving as well. Now I know what their requirements are. Take care...
Similar discussions:
Search The Garden Helper: