Fragrant Flowers and Plants for a Desert Garden
December 12,1998 Any ideas for great smelling blooms that thrive in desert climates?? I love bright color, and of course love the great smell of gardenias, lilys, (??)stephanapolous(??)
Purple Coneflower
Echinacea purpurea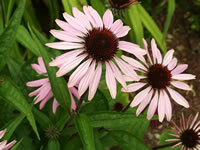 In my opinion there is no better smelling flower than that of the Easter Lily cactus
(Echinopsis hybrids)
. Although you may not get overly excited about growing more cacti, I had to point this beauty out to you. There are many new colors being developed each year, and now include white, pink, yellow, and many multicolored varieties. A mature plant can produce as many as a dozen blooms in a year, but unfortunately each flower will last only a day or two. The fragrance can fill a room.
Other fragrant plants you might be interested in trying
Sweet Alyssum (Cruciferae lobelaria) Just your standard
groundcover
Alyssum (white or purple flowers)
Burning Bush (Dictamnus albus)
2-3 foot shrub (white, pink, purple)
Grape Hyacinth
(Lilaceae muscari)
Long lived bulb (purple)
Purple coneflower (Echinacea purpurea)
Perennial (pink, purple, white)
Desert Lily
(Hesperocallis undulata)
Multiple white flowers on a 1-4 foot spike
Desert Willow
(Chilopsis linearis)
Small tree with gorgeous orchid like flowers
Desert Sand Verbena
(Abronia villosa)
Trailing plant with bright pink flowers
Feather Cassia
(Cassia artemisioides)
Fast growing shrub with bright yellow flowers
Evening Primrose (Oenothera)
... 1-2 foot perennial (white, yellow)
Butterfly weed (Asclepias tuberosa)
Bright orange flowers on three-foot stems. Butterflies love it!
Gayfeather (Liatris)
... 2-3 foot tall lavender spikes
Search The Garden Helper: