Flowering vines for a northern exposure
January 4,1999 I live in New Haven, Connecticut. I have recently bought a house situated on Long Island Sound. The previous owners have presented me with a site that has great potential for gardening, in what I would call a Neapolitan style. In particular I am trying to solve the problem of growing a vine up a 7 or 8 foot retaining wall. The wall will get some sun, but not all that much, as we look north across the Sound. I would love to find a vine that has a LONG blooming season. It would be wonderful if the vine were evergreen as well, but that is secondary. Mostly I want color and a long blooming season, and not too much maintenance, as I am handicapped and will need to hire a gardener. My wife and I have a small dog, who is extremely mischievous, and loves to eat EVERYTHING, so I assume toxicity too is an issue. If you can be of any help, I would be most appreciative. Thanks for your wonderful web site.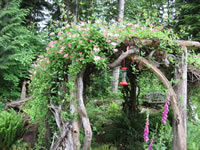 Your needs are quite specific, which narrows the choices considerably. Most flowering vines need full sun to thrive, but there are a few of them that will tolerate partial shade, and still fulfill your needs.
Honeysuckle (Lonicera) need support when they are first starting out, but are generally profuse bloomers. Hardiness and flowering vary greatly with the variety you choose. Great for hummingbirds.
Trumpet vine (Distictis buccinatoria) flowers best in full sun but will bloom in partial shade. It is hardy to 24 degrees F.and needs yearly pruning to keep it under control. It blooms sporadically with warming weather.
Virgin's Bower (Clematis paniculata) is very hardy climber from the Orient that will reach 30 feet. White, fragrant flowers in August and September.
Dutchman's Pipe (Aristolochia littoralis) has a very unique 'calico' flower and is evergreen and hardy to 25 degrees F and root hardy to below 20 degrees F.
'Mme. Galen' Trumpet Creeper (Campsis x tagliabuana) has bright orange flowers and is hardy to below 0°F.
Search The Garden Helper: