How to Grow and Care for Silver Shamrocks
Oxalis adenophylla








Also known as Pink Carpet Oxalis, the Silver Shamrock a very hardy, bulb type plant with beautifully pleated, silvery-blue foliage that forms a very neat, slow spreading clump standing about 3" tall.
From late spring into summer, Silver Shamrocks produce a continuous show of 1½",
pink or white flowers with violet-pink tips and cranberry centers.
Silver Shamrocks make excellent ground covers or rock garden plants, and grow well in containers.

Growing Requirements for Silver Shamrock Plants

Silver Shamrocks are hardy in USDA zones 4-10.
They grow and bloom best in full sun, but will tolerate partial shade as well.
Oxalis requires very well drained soil, but otherwise they are not overly fussy about soil fertility.
Water regularly and thoroughly while growing, but these plants prefer to be dry during winter.
Silver Shamrocks are susceptible to rot in the winter in areas where the ground doesn't freeze in the winter, so near perfect drainage is even more important in these areas.
Provide protection from slugs and snails.
Planting Silver Shamrock Bulbs
Silver Shamrock plants are grown from tiny brown bulbs with fine, hairy roots on the bottom, so it's very easy to tell which end goes down.
Prepare the planting hole by mixing in compost,
and by adding bonemeal to the soil below the bulbs.
Plant the bulbs 1½"-2" deep and 3"-4" apart.
After planting, water well, thoroughly soaking the area.
Foliage will form in about 6 weeks and flowers in 8-10 weeks.

Propagating Silver Shamrocks

The easiest way to propagate new Silver Shamrocks is to simply dig up an established clump and then divide and replant the bulbs early in the fall.

Fall is also the correct time to sow seeds directly in the garden.
Silver Shamrock
Oxalis adenophylla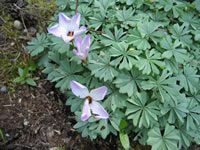 See also: How to Grow and Care for Shamrock Plants
Search The Garden Helper: