How to Grow and Care for Your Pouch Nemesia
Nemesia strumosa










Nemesia strumosa is a brightly colored annual plant that quickly grows to a height of 12-18 inches.
Nemesias are excellent plants for borders, beds or containers, and can even be grown as a short lived house plant if they are given bright sun during the day and cool(55°-60°) temperatures at night.

Growing Requirements for Nemesia Plants

Pouch Nemesia are very frost tender and dislike sudden environmental changes.
They should be hardened off gradually before they are planted six inches apart in the garden.
Nemesias grow and flower best in full sun.
They prefer cool to moderate climates. In hotter areas they will need light shading.
They require constantly moist, well draining, rich soil.

Feed twice monthly with a liquid all purpose fertilizer, or monthly with a slow release food.
As blooming slows in mid-Summer, cut the plant back and the flowers will soon reappear for the remainder of the season.

Growing Pouch Nemesias from Seed

Nemesias can be grown from seed,
but are extremely slow to germinate at temperatures below 60° in the garden
Sow Nemesia seeds indoors 6 weeks before the last killing frost.
Germination only takes 7-14 days at 70°.
Cover the seeds completely because they require darkness for germination.
Pinching the tips of young plants will induce bushiness.
Pouch Nemesia
Nemesia strumosa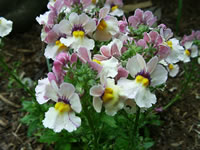 Search The Garden Helper: