Out in the woods
Willy's Place » Wallpaper of the Day
by Bill on June 22, 2003 05:43 AM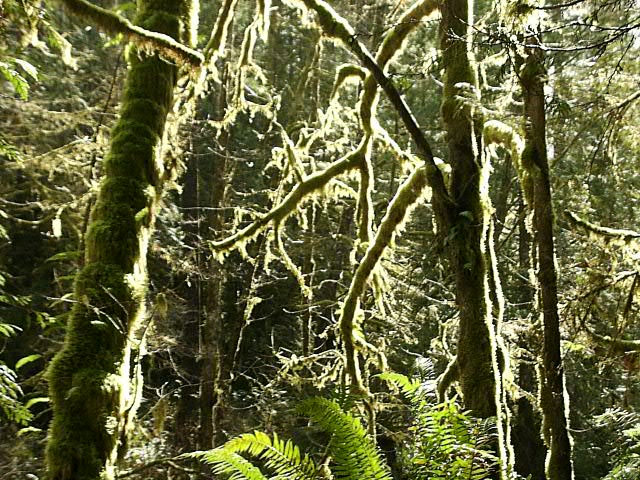 Out yonder, in my woods...



* * * *


by catlover on June 22, 2003 05:37 PM
OOOOhhhhhh I like it!!! Soooo MYSTERIOUS!!!! Makes you wonder what little(I hope) creatures are lurking in such a GREAT place. Would hate to make your way through there and come upon your bear.


I love all these pictures. I would love to have a home surrounded by all the bogs. Love the ferns, moss and the natural look. Keep up the good work on this site Bill. I know you are frustrated. Remember not everyone can have everything they want! You may not know this being a guy and all, but you know you can say NO!!!!!!


Have a good evening, Catlover

* * * *



by Flower on June 22, 2003 06:52 PM
It looks almost.......scary. Dunno if I wanna be walking there alone! Beautiful pic though Bill.
* * * *

by TxWildflower on June 22, 2003 07:09 PM
Bill,
I love everything on here..Not sure whos complaining ..But they will get over it..I would love to live there its beautiful..All i can say. If they think they can do a better job then go for it..

* * * *

by loz on June 22, 2003 07:10 PM
It's a jungle out there....well almost...lol I think that it would spook me out a little too....then again I am chicken...at least I admit it...

by Bill on June 22, 2003 09:44 PM
No, no no no no... mysterious looking maybe, but not scarey... (well maybe if the bears really scare ya... but I'm tougher than them and I'll protect you) You would be surprised at the peace that you can find out in those woods. That's where I go to hide from the rest of the world and listen to my birdies sing, watch the Sugar Gliders fly through the air and breathe the nice fresh air. You can't help but to feel a lot better after spending a lil time out yonder... down in my woods! My mysterious, but magical woods....

* * * *

by weezie13 on June 23, 2003 04:06 AM
It reminds me of down south, like Geogia, they have that type of moss that hangs from the trees. When I drove to Florida the one time, we took a right, instead of a left and got lost in the backwoods of Georgia. That type of moss hangs really though though!!
Weezie

* * * *
Weezie
Don't forget to be kind to strangers. For some who have
done this have entertained angels without realizing it.
- Bible - Hebrews 13:2



http://photobucket.com/albums/y250/weezie13/
by catlover on June 23, 2003 08:15 AM
That must really be neat watching the sugar gliders. I have seen people carrying them around in little bags...but have yet to see one wild. Think animals like that should be left in the wild personally!!! Watch out another pet peeve...don't get me started.

You'll have to get a picture of a sugar glider for us one of these days. Bet they are hard to spot!?!
You need to look at the frustrating times as CHALLENGES!!!!!
Catlover

* * * *



Similar discussions:
Search The Garden Helper: