Our front hill
Gardening Reference » Gardening in 2006
by hisgal2 on January 26, 2006 01:00 AM
Over the past couple of year, I've really wanted to do something with our front hill. I absolutely hate it. I really want to put terracing in, but there just isn't going to be a way to do that. The periwinkle MUST come out. It just looks overgrown and unkept. I was thinking about planting a row of lavendar along the bottom of the hill, planting something that is a low plant....maybe a creeping phlox??, and then planting a row of wild flowers along the top. The two bushes on either side of the front walk are coming out and I'll probably do a small bed on either side of the walk way at the curb. What do you think? Here are pictures of how the front looks now.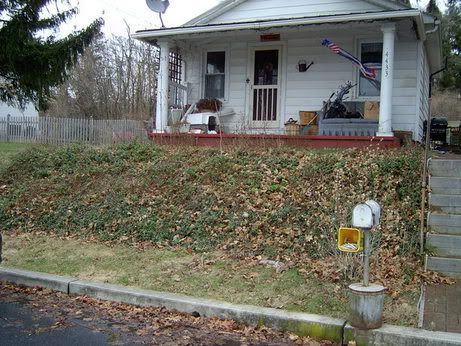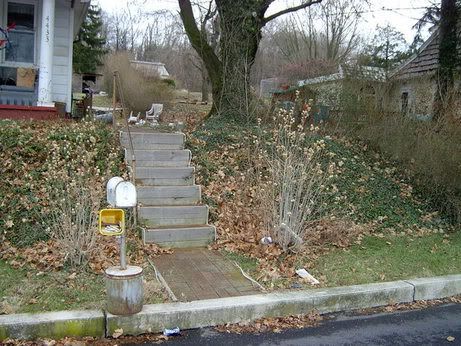 * * * *


by tkhooper on January 26, 2006 02:14 AM
It looks like you've got about 4 feet of vertical slope going there. I know that with my slope what I'm shooting for is tall plants in the back and then growing smaller as I get down front. But that's because I start out 30 inches off of the ground.
It looks like a sunny location but it's hard to tell in winter. If it is I think I would do the cottage garden type plants. You know foxglove, queen anne lace, snapdragons, and I would probably go for the unkept look on purpose since it is so hard to keep it weeded and pruned. But that's just me.
I'm sure it will be great looking how ever you do it.
* * * *


by hisgal2 on January 26, 2006 04:05 AM
Its get sun from about noon until around 4. Yeah, there's 4 or 5 feet of vertical there. I liked the thought of giving it some sort of border with something at the bottom. The bed ends and there is about 3 feet of grass between it and the curb.
* * * *


by loz on January 26, 2006 11:35 AM
I think Phlox is a good choice....My mom has 2 pretty large areas covered in that and when it's in bloom it's spectacular.....but it doesn't last that long.
I'd try to plant layers of plants that bloomed at different times maybe...so there's always some color....or even plant some small shrubs up at the very, very top...something evergreen that would look nice all year long....I wouldn't do annuals too much because then unless they reseed you'll be constantly replanting....

I'd either heavily mulch it or get some landscape fabirc to put down so you don't have to weed too much....and I'd cram the area so full that you can't see the weeds too much....
Whatever you decide to do let us know!
by weezie13 on January 26, 2006 12:41 PM
Here's my idea Jenn..
Her'es the main page for all the instructions and what to do..
Here's what it look in the middle of the project...
Here's what it would look like....
* * * *
Weezie
Don't forget to be kind to strangers. For some who have
done this have entertained angels without realizing it.
- Bible - Hebrews 13:2



http://photobucket.com/albums/y250/weezie13/
by hisgal2 on January 26, 2006 10:03 PM
weezie,
That's really neat! Although, there's alot of work involved there!! I wonder if there's any way to incorporate that into the hill without doing it on the entire hill? I'm gonna have to really think about this! Maybe I can make a boulder type thing instead of having to find a large rock! That really is an interesting tecnique!!
* * * *


by weezie13 on January 26, 2006 10:14 PM
Ever since Rue Anemone joined us and we've been talking about doing those Hypertufa Troughs...
and I found that link...
I have been in LOVE with that idea/concept..
Someday if I could do something like that, I would.
I would love to see someone do it....




I hope you two can do something with the idea..
That would be great!!!!!!
* * * *
Weezie
Don't forget to be kind to strangers. For some who have
done this have entertained angels without realizing it.
- Bible - Hebrews 13:2



http://photobucket.com/albums/y250/weezie13/
by penny in ontario on January 26, 2006 10:37 PM

Hi there!!!
What an adorable house and lots of potential there. A friend of mine had the same problem with her house and heres what she did, i dont know if finances permit it or not but they hired a landscaper and he sectioned it off to make it look like 2 boxes per side with smaller shrubs and plants in the bottom (closest to road)and in the 2 top boxes planted trees (3ft high) and taller flowers and grasses, nothing was to high to hide the front of the house and on one side put a weeping pea tree and used lots of rocks, i think they were supplied by the landscaper and in the fall she adds pumpkins and in the winter on some of the taller trees and shrubs uses "twinkle lights" and it looks beautiful, for ground cover they have used the bark chips(think that what those are) and it looks great.
At the bottom of your steps i would add a cast iron urn for more color. You have so much potential there. By the way do you sell those quilts?
Good Luck

Penny
* * * *

by tamara on January 27, 2006 01:02 AM
Hisgal, I thought you were moving to Alaska? Sorry to change the subject I was just curious why all the work if you making the big move.
* * * *

Tamara's Photos
Thinking Spring, Thinking Spring...Nope, doesn't work.lol
by hisgal2 on January 27, 2006 03:02 AM
We are still moving, but are waiting until next year. We want to do some work to make the outside of the house look better so that it will sell faster when we list the house for sale.
* * * *


by rue anemone on January 27, 2006 03:38 AM
Did I hear someone say hypertufa!!!
BUT you are moving so what you really need is quick, inexpensive and easy curb appeal. You want to draw attention to your front entrance.
One quick and easy solution would be to paint your front door and put containers planted with coordinated flower along the front edge of your porch. Paint your mailbox to match.
I really like the myrtle on the hill. You could add a few boulders. I played around a bit with your house.
check this out
* * * *


by hisgal2 on January 27, 2006 10:15 AM
Our porch is painted red, but needs to be repainted and I was planning on painting the screen door the same color red. The front door is wood that matches the inside of the house and I just can't bear to paint the outside of that door. I like the idea of putting containers on the front porch. I do have a nice sized round planter that I was planning on using, but am looking for others for the porch. I also have two hanging baskets of petunias that go out there in the summer. I also like the semi-walls that you did at the bottom of the hill. I'm still pulling out that periwinkle tho...I hate it. I was thinking about maybe just doing wild flowers of varying hieght on the hill itself. We've got a year for any flowers to get established before we put the house up for sale.
* * * *


by loz on January 27, 2006 11:08 AM
How about painting the steps and the rail going up the steps? Maybe a dark slate gray....Sometimes painting the window trim is a good cheap way to make the front pop too....especially if you are going to paint the door.

When will the house get listed Jenn? Next summer???? I guess summer would be the best time to show it, when it's bright and sunny and things are blooming....
by rue anemone on January 28, 2006 03:23 AM
hisgal2- I know what you mean about painting stained wood. I take that suggestion back! AND you are way ahead of me with all the containers on the porch, very good.
Wildflowers would definetely add color. I like to plant shrubs in with my flowers to increase the interest.
Here is another idea: Is that your picket fence to the one side? Do you have any left over? Somehow incorporate a section on the hill or with your mailbox.
There is a very nice yard in the neighborhood next to us that has picket fence just at the corners of their property. It is really cute with flowers behind it peeking over and through the pickets.
AND the really good thing is you aren't buying fencing for the whole yard.
* * * *


by hisgal2 on January 28, 2006 06:55 AM
Loz, that's a good idea about the railing. The steps, though, I wouldn't paint. The tops are brick work, as is our walkways. The front of the steps are wood and match the wood outlining of the walkways. If the window trim is wood, then I think painting that the same color as the screen door would be nice.
Rue, the fence is next door's fence. Our property ends at the tree on that side of the house. I really hate how our front looks during the winter. ick!!
* * * *


by Oui on January 29, 2006 10:53 PM
Periwinkle Vinca Minor IS HARD TO KILL once it has established itself. I am actually going to plant some Vinca Minor this year on the hilly part of my yard...

To kill it you would have to spray the leaves with Roundup. Wait for it to die...Dig it out or burn it out...Cover it with thick plastic....THEN see if the vinca Minor <<periwinkle>> grows back...It usually does...then spray it again dig some more...burn some more...Yep it is great ground cover if you never want to change it..

Maybe you should just rake it...Vinca Minor can take a raking...and trim it....Add some flowers near the walkway/steps.
by Oui on January 29, 2006 10:59 PM
personally I would leave it...Kill the grass at the bottom..let the periwinkle grow to the curb...Keep it trimmed and raked neatly. And add some lovely scented flowers along the steps and entrance from the street.

Maybe some lovely color in pots on the porch.

And a nice border of daffodils and tulips along the stairs just for spring.
by Oui on January 29, 2006 11:04 PM
I would also remove those fan shaped trellis', and put a lovely arbor at the entrance. That mail box has to go...<sorry>

What is growing on those trellis'???
by Oui on January 29, 2006 11:10 PM
Are those bushes or fan shaped trellis' at the entrance to your steps ??????
by hisgal2 on January 29, 2006 11:17 PM
Those are hibiscus bushes. I like the bushes, but I don't like where they are. We are pulling them out....not sure if I'm going to replant them anywhere tho.
As for the mailbox...we have one to replace it with. Haha...its a funny story. That mailbox is ORIGINAL to the house.....the first one! The previous owners were here for 12 years and gutted and redid the entire first floor, but never got to the mailbox. When we bought the house, they made us promise to put a new box out there.
As ugly as it is, it really comes in handy when it snows and the snow gets plowed to the curb! We just pick the box up and move it closer to the street where the mail carrier drives!
Do you want any of the periwinkle? I'm definately pulling it out.
* * * *


by hisgal2 on January 30, 2006 07:04 AM
Ok, I ordered my seeds. Here's what I got...
two different types of wild flower seeds for the top of the hill, cosmos also for the top, Impatiens for the middle of the hill, crystal palace Lobelia, Alyssum (bright golf mixture), and dusty miller for the border on the bottom.
I will probably put some of the wildflowers and cosmos around where the mailbox will be put in also.
* * * *


by hisgal2 on January 30, 2006 07:07 AM
Sidenote...I'm going to try to make a couple of those hypertufa boulders and put some Lobelia-regatta mix- in them. Thought that would look nice.

* * * *


by Oui on January 30, 2006 10:19 AM
No I don't want the periwinkle...Let me know how you get it out...

It is a VERY stubborn plant.
by rue anemone on January 30, 2006 11:09 AM
example
profile of stone wall
and then other is slope with stones further apart right and wrong way to place stones
* * * *


by Oui on January 30, 2006 10:53 PM
What are you planning on doing to keep the hill from eroding after you remove the Vinca Minor???

I can see a big tree at the top of your steps..The Hibiscus bushes might be pretty at the top of your steps if the sunlight conditions are good for them there..
by hisgal2 on January 31, 2006 08:41 AM
The roots from that pine tree have over taken the ground up there. It would be extremely hard to dig a hole for the bushes. I was thinking about putting the bushes in our back yard near our garage.
I'm not worried about the slope washing away. I have ALOT of seeds that are going to be planted on the hill. It should be ok.
* * * *


by Oui on January 31, 2006 10:48 PM
Are the plants going to stay there during the winter?? Or are you going to plant pansies in winter?? I mean if there is nothing there during winter then you might have some erosion problems during winter..It would be nice if you could terrace it..That would resolve the erosion problem.

My hill is a lot steeper than that...During winter it has eroded down to the rocks, and roots of the tree that is there...I have left it for so long...I have some hosta planted there and a ground cover rose <that is not doing well> There is Iris and daffodils in there too from before I lived here..And I think some day lilies..<that never bloom I think because there is not enough dirt>>. At least you have dirt...I will run out there and take a picture of it...today some time...And post it later..

I have been avoiding doing anything with it because everytime I try I get poison ivy BAD.

This spring I am going to dig out the hosta, and other usable plants, move them to the back yard and try to get periwinkle to cover it. So I do not have to do anything but trim the periwinkle and rake it now and then.

It also has wild stuff growing..It is a mess...
I have wanted to spray round-up to kill everything but there is a tree there and I do not want to kill the tree..Plus the iris' are the OLD kind VERY LOVELY..<<<<my house is built on an old homeplace>>>I dug up a lot or the Iris last year, and transplanted it...I have to wait til they come up again to see if there are any more out there on the <<evil hill>>...I did get down weed block on half of the hill last year. I had to stop half way through because of the poison IVY...<<sigh>>> I hope I can get done what I want to do this year on that area..Before the poison ivy gets me and deters me again..
by Oui on February 01, 2006 12:52 AM
The Evil Hill...See why I think Periwinkle is the best solution for this???
by rue anemone on February 01, 2006 02:40 AM
NO, NO, NO, Qui!! You are thinking about this all wrong!! This is not a bad sight but one filled with possibilities!!
I see boulders staggered up the hill, planting of hosta, sedums, phlox, carpet type plants. Another perfect spot for a rock garden.
This might be a genetic defect in me!! I guess no matter where or how flat a yard my Papa brought in dirt and rocks and made a rock garden. I have the gene!!
* * * *


by weezie13 on February 01, 2006 02:53 AM
I know you've got a "GREAT EYE FOR IT" Rue!!!
I can see it too..
Only one small thing I see,
What is that pole and white pole with orange on it??
I agree with Rue...
I could see a rock garden all the way up the drive and too the garage....and make them all
plants that like forrest floor type...
***One's that can withstand leaves falling on them
and being still able to poke their heads up thru it the following spring
ie: bulbs, columbines, foxgloves..
* * * *
Weezie
Don't forget to be kind to strangers. For some who have
done this have entertained angels without realizing it.
- Bible - Hebrews 13:2



http://photobucket.com/albums/y250/weezie13/
by rue anemone on February 01, 2006 03:20 AM
It looks like an electic line. That can be worked around.
We have a place you call and for free they come out and spray paint where the lines run so you don't hit them when you dig.
* * * *


by hisgal2 on February 01, 2006 09:11 AM
Oui, I wanted to originally terrace it, but its just not going to happen.
I'm planning on just cutting off the plants for the winter and letting just the bottoms in the soil. We have a hill in the back yard as well and thats what we do to those plants and the hill doesn't erode.
* * * *


by Oui on February 01, 2006 07:35 PM
The pole is a utility pole and the little pole with orange on it is a underground power line, or some kind of utility box.

I know I need to call the utility company to come and mark it. There is a trench <about 2ft deep>> that runs straight back from that pole. I swear it is the power line trench that never got filled in..

It is hard to see because of the grass N other mess...But it is there...yep a trench...

I love your ideas Rue. I had the same optimism
when I moved here..I did plant the hosta and ground cover rose...But getting poison oak deterred my enthusiasm. <<I am very allergic to poison ivy>> I just want it to stay green all year...and look flat and not need to be mowed, or watered or weeded, because of the poison ivy.....
by Oui on February 01, 2006 07:42 PM
hisgal I can't wait to see how it turns out...
by Oui on February 01, 2006 07:58 PM
That is my neighbors driveway and the utility pole marks the lot line...My house is the one on the right. Not the Far right but with the green shutters.

I thought about putting a white picket fence along the lot line there. Maybe someday.

This year I am going to try to fix the evil hill...change out my front flower gardens and make a flower garden in the back with all the plants I move from the front...And add some bird attracting trees to the wild part of my back yard....That is it...A little at a time. I will start a new topic with pictures from the area in back that I want to fix...it is wild too..You all can give me ideas for that...
by rue anemone on February 02, 2006 08:48 AM
Oui I have a lot of allergies and have taken antihistamines for years.
I get poison ivy but usually just a small amount and I wonder if it is because I am loaded up with the antihistamines.
Maybe your MD could prescribe something for you to take.
* * * *


by Oui on February 03, 2006 09:48 AM
Yeah I get Steroids when ever I get Poison Ivy and that works...But then I get paranoid of "the evil hill" after that..Maybe I am just lazy..And the Poison Ivy is my excuse..
by neko nomad on February 04, 2006 04:52 AM
I'd bet maintaining that slope comes with either a strained back or heart,or both, depending on your health.
Go the low-maintenance route. This is a job for
ground cover juniper
:
juniperus horizontalis.
Google Images provides a wide range of juniper species to choose from.
This is what I'd use.
by Oui on February 04, 2006 05:44 AM
Yes that is why I call it THE EVIL HILL...I already decided on the Vinca Minor..it is low maintenance and evergreen down here. It is also good at tipping the riding mower over if you are not driving fast enough..
Search The Garden Helper: