Episode # 9.... Scavenger Hunt part 2
Willy's Place » The Further Misadventures of Wild Willy
by Wild Willy on March 26, 2004 11:18 PM

The Scavenger Hunt, Part 2







Much like the ant who was so determined to move that rubber tree, I was determined to somehow use that ancient growth log in the repairs of my arbor...
Both ends of the log were buried in dirt and rock, but there was an eighteen foot span that was elevated above the ground and accessible.




I contemplated using sledges and wedges to split the log into segments which could be moved by hand, but with that method, there is always the chance of creating unusable lumber because of flaws and defects in the log.
I decided instead, to try something I hadn't done before... cut an eighteen foot straight line with my chainsaw. I created a line using 2x4s nailed to the log, and slowly began to make progressively deeper cuts into the log. Once I had the cut completely through the log, I cut it to length at 18 feet.
With a bit of effort, I got the two half logs up to my project site where I made additional slices to turn them into several 8 inch by 8 inch beams.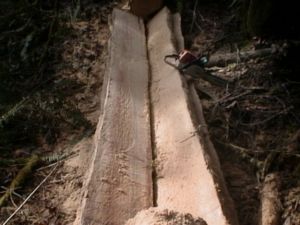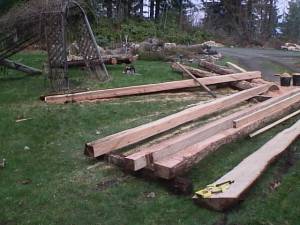 A few more days of scavenging resulted in the entire area being covered with logs, limbs, trees, burls and assorted other goodies that caught my eye.
But.... I still had no idea of what I would use it all for.
Two of the beams which were cut from the outside of the log had a natural, slight curve along one edge which reminded me of an old arched window, so I figured it was a good place to start.
I cut a third beam in half, and set them and one of my collected Cedar logs in a straight line which followed the alignment of the Clematis and Honeysuckle plants which were growing there.
The posts were set in three foot deep holes, leveled, then I poured concrete in and let it set for 24 hours... I cut the corner post to a height that felt right, then used a laser level from that point to cut all subsequent posts to the appropriate height. I cut notches into the beams so that the structure would "lock" together for additional strength.
Yep... just like good ol' Lincoln Logs!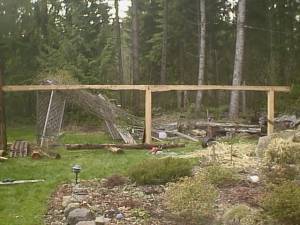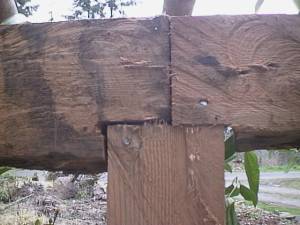 It takes
slightly
BIGGER than average nails and screws to make
slightly
bigger than average things ya know.......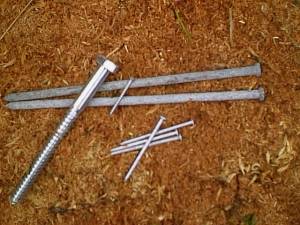 To be continued......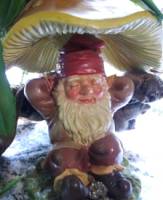 by Jiffymouse on March 27, 2004 03:47 PM
looking good! i wish i had some logs i could cut up like that. all i have are pine trees.... as far as the eye can see!
by Phil and Laura on March 28, 2004 04:20 PM
Could you haved "pegged it" Bill, like the old post and beam construction?
by Bill on March 28, 2004 04:34 PM
I considered pegging it together for authenticity, but since I have no plan at all, and still haven't even figured out what it is, I just used 12 inch spikes and my 25 pound hammer.
It'll never fall down in an ice storm again!!!

by weezie13 on March 28, 2004 04:54 PM
Wow!!
That's HUGE!!!!
That looks awesome so far!!
I see that huge flower/vine just waiting
to get up there!! I bet that it will be spectacular very soon!!
We want pictures of all the flowers when you're done!!!



I can't wait to see the flowers what a sight that will be!!!!



Weezie
*What mus~cules!!!!!


* * * *
Weezie
Don't forget to be kind to strangers. For some who have
done this have entertained angels without realizing it.
- Bible - Hebrews 13:2



http://photobucket.com/albums/y250/weezie13/
by Phil and Laura on March 31, 2004 03:11 AM
quote:

---

MUS-CULES

---
You Bet Weezie, I used to work assembling log homes and it takes alot of Hammer, and a good strong arm, BUT, that was 25 years ago, don't know how long I would last now!

by apples on March 31, 2004 05:31 AM
Wild Willy, can fit under a toad stool and build a stool with his toes! He must have some pretty big mus-cules to be less then a foot tall and get those huge beems across standing on top the post! What ever it is it's coming along nicely.

* * * *
The answers will come when needed. Otherwise, I'm guesing time will make me feel silly.
by Sue Z on March 09, 2005 06:52 PM
Those sure are some huge nails ya' got there, Willy!

Sue z


* * * *

"WHEN IN DOUBT ... DON'T"
Search The Garden Helper: