Rubber Plant Question
Gardening Reference » Gardening in 2006
by Mandy N. on March 24, 2006 01:44 AM
I have a beautiful Rubber Tree that is getting new leaves. The past few that have come out don't unfold all the way, and so they look misshapen. I don't think that it needs to be re potted, but maybe.... Could someone please tell me!?!?

by loz on March 24, 2006 02:12 AM
Hmmm, I'd only repot mine if it became top heavy......I have a few leaves that are shooting out on mine...but they won't unfold all the way until I put it outside in a shady spot in the spring/summer. Then it grows leaves like crazy!!!!!
Here's mine!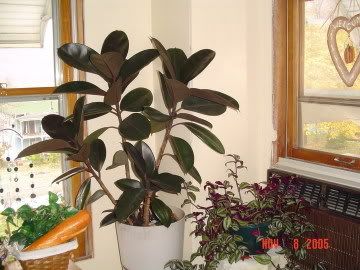 Do you have yours inside? What kind of light is it in.....once it's warm enough they really do well outside as long as it's shady.

by Mandy N. on March 29, 2006 02:35 PM
Hey!!! I am a total idiot!

I forgot to have the emails sent to me when I got a reply, so I have thought that I was being ignored!! All of those plants are gorgeous! I love these plants. here is the picture of mine so that you can see the leaves that are curling. They have opened all the way, they are just curling differently.
http://i60.photobucket.com/albums/h32/mnigbur/100_1902.jpg
http://i60.photobucket.com/albums/h32/mnigbur/100_1903.jpg
Thanks again for your replys!!!!

by kirksgirl on April 02, 2006 01:01 AM
Is it posssible to root a leaf that has fallen off of a Rubber plant? Or do you need part of the stem?
by Will Creed on April 02, 2006 01:08 AM
To develop roots, the leaf needs the stem bud, the small section of branch stem where the leaf stem attaches to the branch.
by lcyrose on April 03, 2006 07:53 AM
I have grown rubber plants for years and usually put them out for the entire summer....in the sun. They grow like crazy! I always feel sorry (am I crazy or what??) when I see pathetic lone rubber plants about to be thrown out in the stores...and end up buying them. I had one for 28 years. Then when I moved I gave it to a friend to keep for me until I had a house...and he let it die...I was SO upset!
by kirksgirl on April 07, 2006 07:57 PM
2 of my Rubber plant leaves are turning yellow, What would be causing this ? and what can I do about it? The leaves are at the bottom. There is a picture of my plant in thread- and it was just fine when I took the picture a week or so ago. Should I be worried?
by ShazzieMc on April 24, 2006 02:59 PM
Hi there all! Well Will you wanted a real problem so here it is!!! My Rubber Tree is dropping leaves,the leaves that remain are discolored.All my plants usally all look great but,I had surgery and no one else in my house seem to want to help.They all say that if they do they will kill'em.What do I do?

* * * *
" Great Spirits have always encountered violent opposition from mediorce minds"
~ Albert Einstein ~

by beginner_gardner_jmh2911 on April 24, 2006 05:18 PM
I also have a sick rubber plant. The bottom leaves are falling off. I do have it in a deep pot...is that an issue? I thought I was overwatering, so I put some clay shards in the bottom for drainage. So far it has sat dormant. No signs of dieing leaves, but no signs of growth, either.

* * * *
Jeremiah 29:11

by Jiffymouse on April 25, 2006 10:34 AM
don't water it unless you feel the soil first. it should be a little dry. if it isn't dry, you don't want to water it.
Similar discussions:
Search The Garden Helper: