Nemesias (Nemesia strumosa)
Willy's Place » Plant Pictures and Profiles
by Bill on June 01, 2004 05:06 PM

Nemesia strumosa
is a brightly colored annual which quickly grows to a height of 12 inches. They are very frost tender and dislike sudden environmental changes so they should be hardened off gradually before they are set in their growing location.
Nemesias grow and flower best in full sun. They prefer cool to moderate climates. In hotter areas they will need light shading.
They require constantly moist, well draining, rich soil.
Feed twice monthly with a liquid all purpose fertilizer, or monthly with a slow release food.
As blooming slows in mid-Summer, cut the plant back and the flowers will soon reappear for the remainder of the season.
Nemesias can be grown from seed, but are extremely slow to germinate at temeratures below 60 degres F. (germination at 70 F. is 7-14 days).
Cover the seeds completely because they require darkness for germination.
Pinching will induce bushiness.
Nemesias are excellent plants for borders, beds or containers, and can even be grown as a short lived house plant if they are given bright sun during the day and cool temperatures (55-60 F.) at night.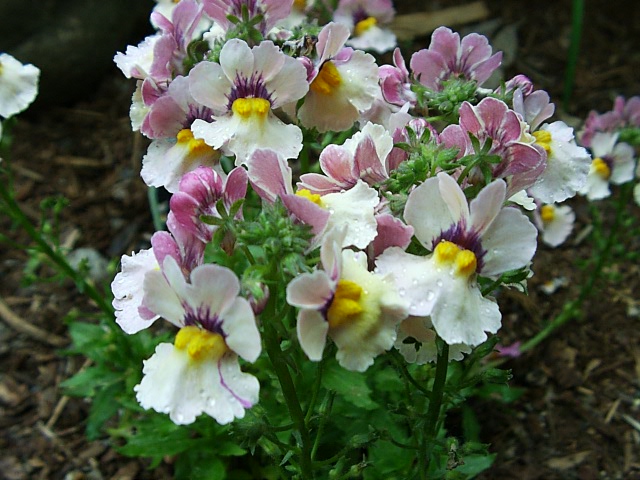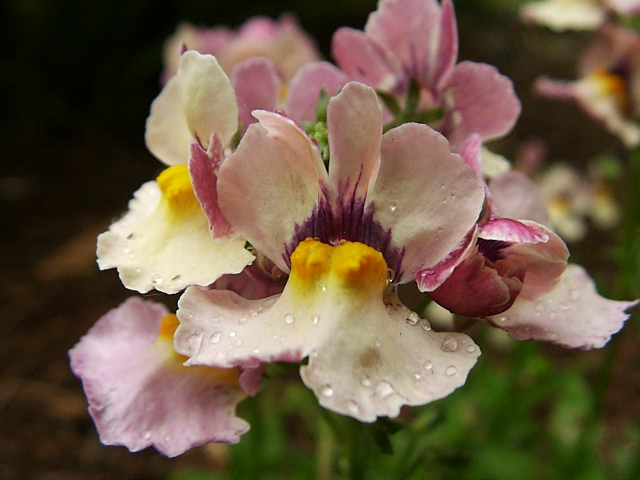 These are Cedar Hill flowers!
by catlover on June 01, 2004 07:59 PM
I like these...kind of looks like many iris blooms on a pansy size plant!


* * * *



by petunia on June 01, 2004 09:50 PM
These are one of my favorite annuals, the purple variety is absolutely adorable!!!
by Bill on June 02, 2004 01:28 AM
This is the first time I've planted them. So far I'm impressed and like them a lot, but I think I should have planted them in another spot....

by weezie13 on June 02, 2004 03:27 AM
Those are so cute!!
They do remind me of a pansy face sort of!
Where did you find them?
Did you plant seeds or plants you planted!
Weezie
* * * *
Weezie
Don't forget to be kind to strangers. For some who have
done this have entertained angels without realizing it.
- Bible - Hebrews 13:2



http://photobucket.com/albums/y250/weezie13/
by Bill on June 02, 2004 04:08 AM
It was $1.99 bedding plant at Fred Meyers....

Search The Garden Helper: